WEDNESDAYS #9 vs. MISFITS:
(vol. 14W, no. 9; newsletter by j.c.)
The Wednesday Pirates have been on tear, sporting one of their best regular seasons in a long while. After compiling a 4-2-1 record in the extended Summer season, we got a little cocky about our good fortunes and dropped a game to the Lumberjacks 7-3. Would this signal the collapse of the Pirate season? Would the Pirates continue on and fight and maintain a winning record? What team would show up against the Misfits? With only two regular-season games remaining before the playoffs, these burning questions needed to be answered.

So I ran an Internet search to see if it would hold any clues to the fate of the Pirates and the outcome of this critical matchup (note to Allen: this search, of course, was not done on company time). Just a few moments into my investigation I found a clue; lo and behold, I uncovered this interesting visual emblazoned on the home page of www.misfits.com: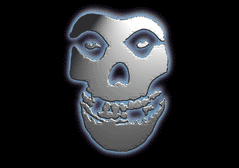 Seems like the Misfits knew the Pirates were coming to attack and they tried to display the Jolly Roger to escape destruction — their plan did not work though. Even though the Misfits scored a goal in the 1st period (assist to our netminder), the Pirates came back and took control. Evan Streaked down the left side (beating both the winger and the defenseman) and Wildman shuttled the puck to him and he found the net. This was just part of a tremendous 1st period domination where the Pirates "camped" in the Misfits backyard. Dave Matthews picked-up the puck off a forechecking scramble and launched a shot for the 2-1 Pirate lead. After that the Pirates played comfortable hockey, while maintaining their attack on the Misfits.

Chris opened and closed the 2nd period scoring (assist to TPOC) to widen the Pirate lead to 3-1 at the second break.

In the 3rd, Allen fought off two Misfits in the crease and put home a behind the net pass from Scott LeMatty (the fans went crazy and even the Pirate bench was caught doing the "wave" in celebration of the pretty goal). Then Keith — playing his stay at home defensive game — scored unassisted through a maze of Misfits from just inside the zone. And lastly, Wildman won a face-off which he directed to Dave Matthews in our end; Dave launched the home run pass to Evan who took it at center ice and broke in to score the final goal, throwing the switch on the Misfits' electric chair.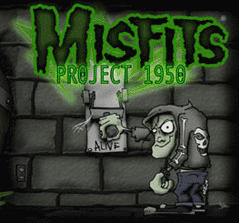 And putting them in a Pirates' coffin.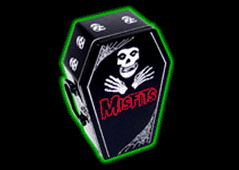 WON 6-1
THE
SILVER
SKULLS




1) DAVE MATTHEWS
For his 2-point evening, including the GWG.

2) EVAN MILLER
For "bookending" the scoring by putting in the first and last goals of the evening.

3) BRIAN NEWCOMB
For stepping-up and playing 45 minutes of solid (and sometimes a bit scary) defense.