WEDNESDAYS #5 vs. HOCKY TEEM:
(vol. 19W, no. 5; newsletter by no one)
editor's note: I regret to inform the Pirate reading public that the website management and #67 are at an impasse regarding the filing and posting of this newsletter. This labor strife is now on its second week and #67 has rebuffed all of management's requests to file a summary of this game. Repeated queries have yielded nothing and — as the Lockout crawls into its second week — we see no signs of a settlement. In an effort to keep the team briefed on the situation, the arguments put forth by both sides are listed in an unbiased fashion below: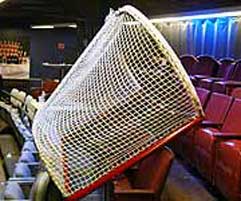 The Pirate Management's view: We are simply looking for #67 to sit down at his freakin' computer and type something about the game. Preferably within a freakin' week of the game actually occurring.

#67's view: Claims he is suffering from writer's block. And he is also lazy.

So, in closing, we at the Coastal Pirates hope that other "Replacement Writers" for the newsletter will step forward until this disagreement is resolved. In an effort to not have the Lockout overshadow this great offensive explosion, we're listing the stats for this game below.

period followed by goal (assists)
-------------------------------------
1st half: scott m. (none)
1st half: craig (from mike)
1st half: craig (from jimmy)
2nd half: craig (from mike)
2nd half: russ (none)
2nd half: jimmy (none)
2nd half: russ (none)
2nd half: evan (from #67)
2nd half: jimmy (from mike)

end of 1st: 3-0 us; end of 2nd: 9-4
• we accumulated a 7-0 lead before they tallied their first goal





WON 7-3
THE
SILVER
SKULLS




1) CRAIG SUDOL
For the hattrick (the second one of his career in a Pirate uniform).

2) JIMMY FERRARO
For a couple of goals and being involved in another one.

3) MIKE FARRELL
For a 3-point night and some big "D."