SUNDAYS #6 vs. ST. PATS:
(vol. 20S, no. 6; newsletter by c.g.)
Last season it looked as though the Pirates would meet up with the St. Pats for the Sunday Championship, as the two teams sported the best records and were evenly-matched. Something happened on the way to the Final however, as the St. Pats were upset by the Wave and the Pirates easily claimed their second consecutive title over that same Wave team. It is no secret that a few of those St. Pats players believed they could have — and possibly should have — won last season's title. Flash ahead to this season as the two teams meet again in Sunday night action, but on different courses: The St. Pats clawing and destined to earn that elusive Championship, and the Pirates clearly off their usually steady form. To make matters worse, the Pirates were extremely shorthanded with three of the four defensive starters not in attendance.

Things got off to a bad start and only got worse, as the fired-up St. Pats pressured hard and outhustled the Pirates. This game had a little bit of everything — from fluky goals to questionable officiating to flaring tempers. In the end the St. Pats were able to easily handle the Pirates in a contest that was well out of reach after 10:00 minutes.

If nothing else, this game sets-up a nice little rivalry with our fellow Western-division comrades — and I have no doubt that with a full squad the Pirates can give the St. Pats a run for their money. Maybe that Finals match-up will happen after all, and we can exact a small measure of revenge for this pasting.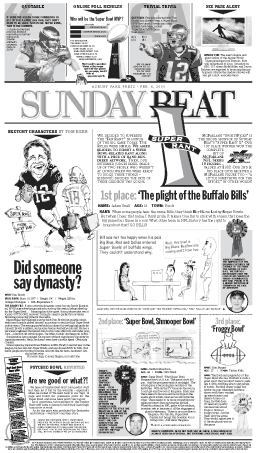 editor's note: Adam-the-Scorekeeper and Pirate blueliner Keith Richardson captured 1st and 2nd place in the Asbury Park Press' "SuperRant I." View their Superbowl-related tirades and — drawings — by clicking on the pdf above.
LOST 8-2
THE
SILVER
SKULLS




(none awarded)