SUNDAYS #8 vs. DIRE WOLVES:
(vol. 20S, no. 8; newsletter by c.g.)
The Coastal Pirates ended their Sunday season with a make-up game against the Dire Wolves, originally postponed due to inclement weather a few weeks back. Neither team's standings would be in jeopardy regardless of the outcome, so there was not a lot of pressure on either of the squads. Scott LeMatty began the night's scoring for the Pirates when he held onto a puck until the goalie went down, and then easily walked around him for the goal and the 1-0 lead. The Pirates were playing well and were able to do what they wanted with the puck — except maybe put it in the net a little more. Defensively the team was strong, as the trio of Bobby, Kevin, and Keith turned away most Wolves' rushes before they even came close to scoring; and on the other ones, Harris made the stops he had to. Later in the 1st period, Kevin netted an unassisted goal to make the score 2-0 at the break.

The trio of Ralz-DiPierro-Farkas skated strong all night, and they would come to life in the final period and put in two more goals: First, Ralz scored off a rebound shot by DiPierro; then, later, the two would flip-flop when DiPierro scored from a rebound off of a Ralz shot. Again in the 3rd period the defense was tight and Harris turned away all but one goal — by none other then the hated* Darren Guglielmelli (editor's note: i added the word "hated"); on the play, #71 pulled one of his patented "I'll skate through everyone and score"** moves, and snuck one by Harris at the 9:00-minute mark (it should be noted that Harris might have been distracted because during the 1st period Gucci tried a similar move, but he lost the handle on the puck because he had inadvertently picked up a lefty stick on the bench). In any event, it was too little too late for the Dire Wolves, and the Pirates rolled to an easy victory to end the regular season with a 3-2-1 record.

* It should be noted that Gucci objected to the editor's usage of the word "hated" in this context. He said his preference in a situation like this would have been words such as "feared," "relentless" or "arch rival."

** Gucci also said he preferred this type of move to be called "Gretzky-esque."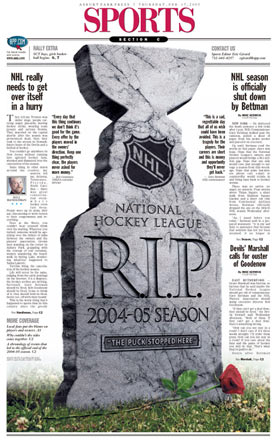 editor's note: the Coastal Pirates are officially the only game in town, as NHL Commish Gary Bettman declared the season dead on February 16, 2005 (click the image above to download a pdf of the Asbury Park Press' sports cover commemorating this occasion). On the downside, this may mean the witty pro-owner vs. pro-player banter by Chris, Keith and Russ may come to an end at our post-game "meetings."