SUNDAYS #6 vs. JAGUARS:
(vol. 21S, no. 6; newsletter by k.r.)
The autopilot cruise through the Sunday season continued as the Pirates dominated the Jaguars in a lopsided 8-2 victory. The Pirates skated with nine players, with scratches of a sick Dan DiPierro and an AWOL Scooby; Bobby Currao and Mike subbed for the Men In Black and joined Kevin on the blueline. Forward lines consisting of Scott LeMatty-Russ-Ralz and Wildman-Glenn-Chris. And of course Harris in goal (I have not been around a while so is it me or has Harris been lifting?).

The 1st period opened along with the floodgates: The first five goals went like this Russ, Kevin, Russ, Russ, Kevin. A nice little song. Ralz and Glenn would also tally in the 1st period to widen the Pirate lead to 7-0 at the break.

The second seemed to have a little different theme: The Pirates were more concerned about working on breakouts and passing so the period actually went to the Jags 2-1. Russ would add his fourth of the game and Scott LeMatty added his third assist of the evening. One game until playoffs and there should be a certain #3 skating around next weekend for the final game of the regular season. See you there and don't forget: The new hats are now posted on the website and are selling-out fast. Buy in bulk and save.
date of game: 5.01.05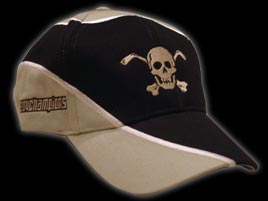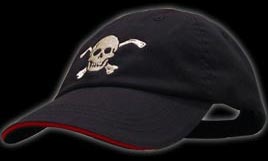 editor's note: that's right keith, at $15/each these new lids are going like hotcakes! we're sold out of the "pirate 500 (nascar-style)" hat and the "coastal casual" is down to the last 5; and there are only 8 more "silver skull" caps. so, don't wait or you could be stuck wearing your tired old Ford® headwear.


WON 8-2
THE
SILVER
SKULLS




1) RUSS NICOLOSI
For another 4-goal night (yes, he's done that before).

2) TIM HAND
For his 2-point outing.

2) KEVIN MCLAUGHLIN
For his 2 tallies and halting most Jag attempts at the blueline.