SUNDAYS #7 vs. DIRE WOLVES:
(vol. 21S, no. 7; newsletter by k.r.)
Question: How does Russ break Scott LeMatty out of the scoring slump that he was never in in the first place? Answer: Move him to "D." Scott ended-up scoring four times for the Pirates and added two helpers in what was a tune-up for the playoffs that begin next week.

The Pirates squared-off with an all-too-familiar opponent and the result was the same as two of the other three matches. The Pirates skated with nine men for this one — six forwards and three defense (everyone knows the goalie doesn't skate). Scott was joined on the defensive rotation by Mike Farrell and Bobby Currao, both of whom have now logged enough regular-season games to qualify for post-season action. Up front, Wildman was centering Russ and Ralz on the first line; Tim would tally both goals on the night for that line. The second line had Chris G. centering Glenn Farkas and Keith, who was up front in his return to the lineup after his injury in Week 3.

The Pirates would get on the board 7:00 minutes in after Ralz beat the keeper with a slapper from just inside the blueline. Then, a few minutes later —only :30 seconds into a powerplay — Scott widened the lead to 2-0 when he took a feed from Keith and scored on another slapshot from the blueline. After allowing Gucci to cut the lead in half when he knocked in his own rebound, the Pirates stormed right back; not to be upstaged by his fellow "defenseman" Bobby would go end-to-end to make it 3-1.

The final period got started a little late while the opposition goalie had to answer nature's call (there are way too many jokes here to mention at this time so you can just make your own here). Same as the 1st period, Ralz began the Pirates' scoring, this time on the opening shift (assist to LeMatty). Scott would add three more goals to close his night's festivities — giving him his fifth hattrick and landing him on the "Legends" page in two other categories. Sandwiched in-between, Scott's barrage, Chris also scored on a feed from Keith. Although we did let up two more goals, including one with just over 2:00 minutes remaining, the Pirate lead never was really threatened. What should not be lost in the lopsided victory is the play of our goalie: I counted three 3-on-1s and one 3-on-0. He stopped them all and then some. So let's give it up for the keeper who rarely gets recognition during an 8-3 whitewash.
date of game: 5.08.05

editor's note: to show you that the coastal pirates are not the only people playing hockey this spring, we'll take you to austria where you can get a look at the world championships. i added some captions for your reading enjoyment.




I wonder if Minerva would've called this?



"I hate these 11pm games. Harris better have brought beer."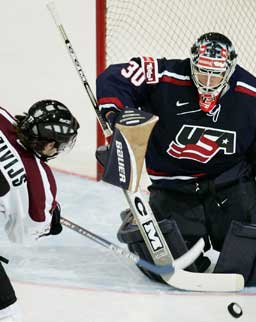 Freakin' DiPietro took my roster spot!



WON 8-3
THE
SILVER
SKULLS




1) SCOTT LEMATTY
For his 4-goal, 6-point evening.

2) TIM HAND
For his two tallies, including the GWG.

3) KEITH RICHARDSON
For his return to the lineup after his injury, and getting a couple of points on the night to boot.