JIMMY HANGS'EM UP: "THE END"
(vol. 21W, no. 9; newsletter by j.f.)
Well as you all know I have been experiencing some health issues. It is safe to say that these issues have turned more severe. My back complaints have been well-documented throughout my Pirate career. As I attempted to sit at the kitchen table Friday night for dinner, I experienced a blowout, or backout for some. The medical field calls it a ruptured disk, I call it hell. "I'm sure you are all thinking what a bad break I got, but today I consider myself the luckiest man on the face of the earth." It is with ill regard that I state that my career as a Coastal Pirate is over. My six plus years with the Pirates have been nothing but joy, and I wish to all much success (in hockey and more importantly in life). I think Kevin summed-up my ability quite well the other day. You see, Kevin was playing open ice with a past student from my high school. When the kid found out Kevin was a Coastal Pirate, he asked if I was any good. Kevin stated "he's not a great skater, but he knows how to score goals." With that being honestly said, I now walk off into the sunset an injured ex-Pirate. But hey, at least I can proudly say I was a Coastal Pirate.

Jimmy 23.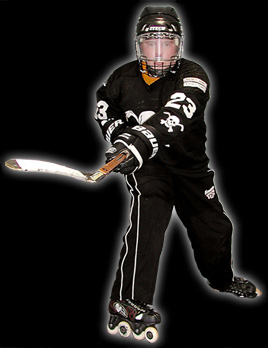 5.04.05
NO. 23's
CAREER
HIGHLIGHTS




JIMMY FERRARO
AT-A-GLANCE
Although plagued by injury, Jimmy Ferraro had more than his share of accolades during his Pirate career. His statistics include: 8 career hattricks; most goals in a game (6); twice he scored 7 points in a game; most points in a season (16, based on an 11-game format). He's also compiled an impressive list of hardware during his tenure; his trophies include: 3 Richard trophies, 2 Art Ross, 1 Masterton, 1 Selke. In addition he has also played on 5 Championship squads and received 35 Silver Skulls.