WEDNESDAYS #8 vs. JAMOKES:
(vol. 22W, no. 8; newsletter by b.n.)
For the second time in four games and the third time this season, the Pirates took on the Jamokes; despite goals by Evan (picking up a rebound by his brother) and Gucci (who slam-dunked a puck with just :04 seconds remaining in the 1st period on a puck that Keith had carried into the zone), the Pirates were deadlocked at 2-1 at the halfway mark. And speaking of Keith: Due to a sudden abundance of defenseman — including Dave, Kevin, Russ, Mike and Gucci — Keith suddenly found himself at left wing, playing with with Wildman and Craig.

The Jamokes ended-up scoring on their first shift of the final period, but it was the suddenly-offensive Keith Richardson who buried a rebound off a Gucci shot to knot the game at 3-3. But then the wheels came off as the Jamokes rattled off three consecutive goals before Kevin picked-up a fluke goal in the closing minutes of the game on a shot from his own goal line. Oh well, there is always next week against the Crunch. Hmm ... maybe the week after.
date of game: 7.13.05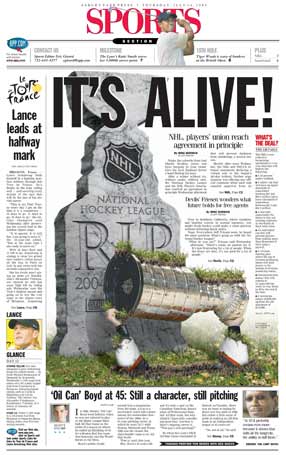 editor's note: Ironically, the same day the NHL settled its 301-day labor dispute, the Pirates lose. I'm not exactly sure what the irony is, but it's definitely there.




LOST 6-4
THE
SILVER
SKULLS




1) DARREN GUGGLIELMELLI
For his 2-point night, including a goal late in the 1st that tied things up — temporarily.
2) KEITH RICHARDSON
For his 2-point night, including a goal late in the 3rd that tied things up — temporarily. (Hey, didn't we just say that?)