SUNDAYS #11 vs. CHIEFS:
(vol. 23S, no. 11; newsletter by b.n.)
For the Championship, the Coastal Pirates found themselves up against the all-too-familiar Chiefs. It was just one season ago when the Chiefs (then known as the Rink Rats) took an 0-9 record into the Playoffs and sent the defending-Champion Coastal Pirates packing in the first round. Fast-forward to this Fall season where the Pirates had to fight hard to advance to the Finals with a 3-2 win over the Decepticons, while the no.1-ranked Chiefs had a relatively easy 7-0 Semifinals win over the St. Pats.

For the Pirates it was all hands on deck as all ten regular roster players were in attendance. The offense consisted of Wildman, Chris, LeMatty, Farkas, Ralz and the fashionably-late Dan DiPierro. The defense consisted of Russ-Keith and #67-Roger. Things got going for the Pirates somewhere near the 18:00-minute mark when Roger took a puck at the left point and fed Wildman who shot it in from just outside the crease for the 1-0 lead. The Chiefs would get the equalizer shortly thereafter and the score was knotted at 1-1 at the break.

The Pirates fought through some hard checking by Rob Armswood and were finally rewarded for their efforts when LeMatty took a pass from Wildman and fired a spin-around-slapper that deflected off something and caught the top of the net. Looking to widen their lead, the Pirates looked to have the game locked-up when Chris Goione put a puck past the sprawled out Doug Collimore, but the refs declared that Chris had dislodged the net before the puck crossed the line. So, as it was the previous week, the Pirates had to fight hard to avoid another late game Playoff letdown. Harris stepped-up and made a number of great saves in the closing minutes (including a great stuff on a breakaway) and as the final whistle sounded the Pirates had claimed their second Sunday Title of 2005.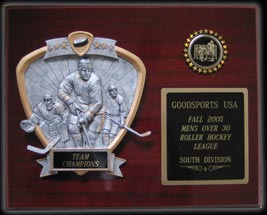 editor's note: And the Conn Smythe trophy for most valuable player in the post-season (as awarded by his teammates) goes to ... Wildman! This makes back-to-back Playoff MVPs for Wildman.
date of game: 12.04.05


WON 2-1
THE
SILVER
SKULLS




1) JOHN CASSENS
For his 2-point night that capped a 4-point playoff effort.

2) HARRIS
For making Billy Smith proud.

3) SCOTT LEMATTY
For one of the most-important GWG in Pirate history.