WEDNESDAYS #4 vs. PHANTOMS:
(vol. 23W, no. 4; newsletter by k.r.)
The Pirates squared-off against the "new and improved" Phantoms ("Now with more skating power and advanced cleaning action!") but still came out with a nice 4-2 victory. As it is now the following Monday and this game was five days ago, lack of memory forbids me from getting into too much detail. Things will be back on track soon because our web taskmaster, Harris, is back now from some sort of trip for some sort of celebration (this writer was not privy to such information).

The Pirates were led by a pair of goals from both Kevin (subbing for Scooby) and Gucci — wow, all the goals came from blueliners! Craig, Wildman and Evan all added assists and the win raised the Pirates to a 3-1 record at just about the halfway mark of the Fall season. Kevin's goals were the usual blasts from the point and Evans' assist on one of Gucci's goals was a great pass out of the corner; Gucci would also tip in a pass from Wildman for another goal.
date of game: 10.12.05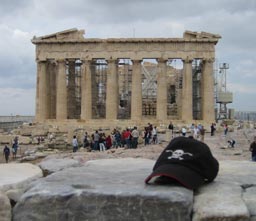 editor's note: Although Harris' whereabouts during the time Keith mentioned are still largely unknown, this piece of Pirate merchandise was spotted at the Parthenon in Athens. No official comment has been released from the Greek authorities at this point.




WON 4-2
THE
SILVER
SKULLS




1) DARREN GUGGLIELMELLI
For his 2 tallies.

2) KEVIN MCLAUGHLIN
For his 5 goals in the last 2 games.

3) MIKE RICCARDI
For a strong effort while subbing in-between the pipes.