SUNDAYS #8 vs. CHIEFS:
(vol. 24S, no. 8; newsletter by k.r.)
Sunday evening provided the Coastal Pirates with the rare opportunity to play one of the legendary hockey teams of all time — The Charlestown Chiefs. Everyone was there: Ned Braden, Denis Lemieux and even Reggie Dunlap. They all looked great considering that they hit their stride as a team back in the late '70s. Except for the fact that the Pirates lost, it was a beautiful night. They only things that were missing were the Hansons and the Sparkle twins. Maybe next time. Let me apologize ahead of time if I forget who skated for us. It is because I am a little awestruck by the whole thing. In net was Harris with a defensive corp of Keith, Kevin, Nick and a returning-from-India Wildman; Up front was Chris, Russ, Glenn Farkas, Dan DiPierro, Scott LeMatty and Tim (aka Tim "Dr Hook" McCracken). The War Memorial was hopping as the crowd of three whooped it up all night (or was that the kids playing soccer next to the rink?). I didn't hear the organ player, so I guess the shot to the head really took its toll on him.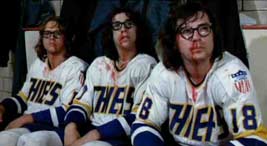 All the usual suspects were in the lineup for the Chiefs except the Hanson Brothers.

The Chiefs got on the board first, but Glenn tied things up shortly after on a feed from Russ. Glenn would return the favor to Russ later in the contest when he assisted on our second goal. The first half would have many of the things you would expect in a Chiefs game including Dave "Killer" Carlson taking a run at Harris in a goalmouth pile-up.

Later into the final period with the score 3-1 in favor of Charlestown, Ned Braden (the Chiefs big offensive threat) would try to carry the puck through center; unfortunately for him, that's when he came upon Tim "Dr. Hook" Hand. Instead of using his stick though, Tim used his knee and the resulting call put the Pirates down a man. As the teams were lining-up for the face-off, Reggie Dunlap was overheard saying that he was "personally placing a $100 bounty" on the head of Tim McCracken (when questioned before the puck was dropped he said, "Yeah, one hundred bucks of my own money for the first of my men who really creams that guy.") Ahh, same old Chiefs. Obviously distracted by the bounty, the Pirates surrendered what would be the game-winning goal on the powerplay. In an exciting finish, the Pirates made it 4-3 with the extra skater after Kevin hammered home a rebound form Keith. But it was not enough.

As we waved goodbye to the Chiefs, their leader Reggie Dunlap (who looks a lot like Brian Newcomb) leaned out of the door of their bus and pointed to the Pirates post-game cooler of Pabst and uttered those immortal words: "They brought their fuckin' toys with 'em."
date of game: 2.26.06