WEDNESDAYS #8 vs. GERIATRICS:
(vol. 25W, no. 8; newsletter by k.r.)
The Coastal Pirates ship has caught a tailwind and is streaking towards the Playoffs. To complete the trilogy of holiday week games, the Pirates took on the reborn Geriatrics and came away with a 3-1 victory. Harris missed this one because of a higher calling and Evan was still on the shelf with a rib injury so we have nine men on the bench. The three "D" rotation was Keith-Gucci-Dave, while up front was Chris, Russ, Craig, Scott Miller, Wildman and Nick.

The Gerrys would actually get on the board first. A slapper from the point was saved by M.J. Braun (subbing in net), but the rebound sat in the crease for Brian Newcomb to tap in. Yes this is the same Brian Newcomb of Coastal Pirates fame. Now I know that some of you feel that Brian abandoned us — a traitor if you will — but during this Lenten season I would just point to the recently-released documentation of the "Scrolls of Judas." They point to the fact that Judas was probably executing Jesus' wishes and not acting as a traitor; in other words, what looks obvious might not be. What does this have to do with the hockey game you ask? Well it may help explain the "handshake" to Brian that was offered-up by Russ at the end of the first half. After Russ scored to tie things up (on an unbelievable assist from Chris while he was on his knees), Russ went into the corner with Brian. From this writer's vantage point on the bench it was hard to see, but easy to hear as Russ's slash across Brian's hand that would bring both a 4:00-minute penalty and blood. This would be the last we would see of Judas, er I mean Brian, as he quickly left the arena for repairs. Oh well, that's why its hockey and not hopscotch.

The final period was a tightly-played defensive contest. The Pirates were able to clamp down on the Gerrys (this was probably helped by the fact that the Gerrys were now down to only five skaters). Russ and Chris would both add a goal each to break the gridlock and put the game out of reach. In closing let me just say that I hope Brian is okay. This is all in fun and I hope to see #67 in the Pirates' line-up again (although with the developments that took place in this game, I wonder). Till next time ...
date of game: 4.12.06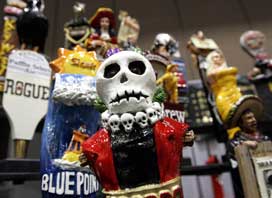 Pirate Ale™ debuted at Connolly Station in Belmar last Tuesday. Thanks to the efforts of Mike Farrell, the brew is now served on tap at the back bar.