SUNDAYS #6 vs. BLACKHAWKS:
(vol. 27S, no. 6; newsletter by brooks)
It's easy to get caught up in the glamorous part of hockey. Goals and assists are great, but they don't always paint an accurate picture of game's events. Some of the best players don't always show up on the score sheets, but are more valuable than words can describe. That being said, we are going to get away from the scoresheet tonight and talk about how this 4-1 win over the mighty Blackhawks was a complete team effort and not the work of a few.

Tonight we played a Blackhawk team who threw us around like rag dolls on week one. Tonight, however, it would not be the same. We had the "Fantastic 4" on defense: Kevin, Scott LeMatty, Russ and Gucci. Up front was Murf-Dan DiPierro-Glenn, and the checking line was Tim-Brooks-Tony. Both lines were solid, but like I said the players in the tough rolls excelled this evening. Goaltending has been our biggest strength all season and Harris was great again tonight. Defense was solid with Scottie and Kevin throwing some weight around at all the right times. Scott and Russ are forwards by trade, but have played great defense all season when called upon. This team has all the components: Size, speed, skill — and the biggest part — goaltending. And potential to win many more Championships in any division. Like I said, it is all about team not individual talents that make us tick and tonight everyone did their part ... and then some.
date of game: 10.29.06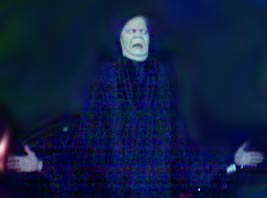 GUESS THE PIRATE™ ANSWER
The solution from last week's "Guess the Mystery Pirate" was none-other than Scott Miller. Brother Evan put on the above 8-foot costume — the only problem was it had no drinking hole for the post-game refreshments!


WON 3-1
THE
SILVER
SKULLS




1) KEVIN MURPHY
For a new-brand of Murf-hockey: He scores and serves time in the box.

2) HARRIS
For allowing just one B'hawk goal.

3) ANTHONY TOSCANO
For scoring half the goals last night.

... with Bob Brooks!

Here is the floor report dated 10/29/2005 ...
Rumor has it the the "Powers That Be" at our favorite place is going to spend mega-bucks on a new sound system for the rink. HELLO!! Look at the floor guys — the 90% is down to 50% fixed, but hey, I guess we can listen to cool music while we break our ankles ...

Disclaimer:
"The Floor Report" is purely the opinion of the author and not necessarily that of the Coastal Pirate organization.