SUNDAYS #8 vs. JAGUARS:
(vol. 27S, no. 8; newsletter by brooks)
The pirates have been on quite the roll lately, so why not continue it against a Jags team that has been struggling? We had pretty much the same line-up as usual: Joe Baio, Gucci, Kevin and Russ (slightly cranky even though his Jets beat the Patriots) on defense; up front we had Tony, LeMatty, Brooks and Murf, Dan, Farkas. We have assumed that there will always be plenty of goals and on this night there were.

Here's the game at-a-glance:
1st brooks (harris)
1st gucci (tony)
1st brooks (tony)
1st kevin (brooks)
1st period: 4-1 Pirates. This included a rather impressive behind-the-net shot by Kevin.

And still more scoring in the final period:
3rd brooks (tony)
3rd lematty (tony)
3rd brooks (lematty/kevin)
3rd tony (brooks)
3rd brooks (gucci)
final: 9-1. Game called due to eight-goal rule with less than 1:00-minute remaining. Highlights of this period were a 100-mph one-timer for our eighth tally, and Kev somersaulting across center ice after his pants began falling down.

Nine seems to be the magic number for us lately. The GoodSports "official" scoresheet originally omitted two of Tony's assists, but a hastily-organized tribunal of the S.O.C. heard the case and awarded him the points. During the proceedings, Tony's impassioned plea closed with the following statement: "Playmakers always get screwed out of points because assists sometimes are overlooked." I say we start a petition to get GoodSports to keep track of plus/minus stats. Anyway, personal stats don't matter as long as the team wins.

Though the Pirates cruised this night, we still have a tough game next week and then it's on to the post-season. Hard work will be needed to go the whole way ... and we'll need our Captain to fire us up and keep us motivated come Playoff time.
date of game: 11.12.06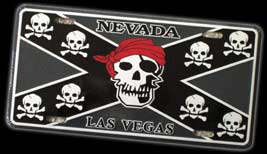 After missing hockey for a week, Gucci just flew in from Vegas. Boy were his arms tired.


WON 9-1
THE
SILVER
SKULLS




1) BOB BROOKS
For his 5 goals and 2 assists (in case anyone was keeping track).

2) DARREN GUGLIELMELLI
For the GWG (and a pretty impressive game considering he just got back from Vegas).

3) ANTHONY TOSCANO
For participating in half the Pirate goals.