WEDNESDAYS #7 vs. CUTTERS:
(vol. 27W, no. 7; newsletter by brooks)
I say every week that good goaltending and defense wins games. When you get both and a lot of scoring it wins Championships. That in mind, we took on a determined Cutters team with an upset on there minds.

The way both teams played in the 1st period it looked like one goal might be all that was needed to win. Tight checking and great goaltending on both ends kept it scoreless through the frame.

It was a tale of two games however, and the flood gates opened for the Pirates in the final period. We came out energized — scoring seven times in the final frame while getting the same great goaltending and defense we had in the first 22:00 minutes. The goals came early and often: Brooks (from LeMatty), Evan (from Tony), Brooks (from Tony), Tony (from LeMatty), Nick (from Brooks), Nick (from Tony), and Brooks (from Tony). Harris with yet another shutout was great again — at this pace he will pass Martin Brodeur in no time for third all-time in shutouts. Also, great job by #67 for his defensive technique in the closing minute of the game ... and also being prompt with this newsletter.
date of game: 11.02.06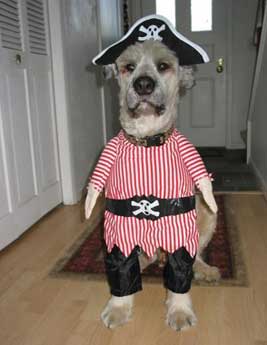 PIRATE PETZ™
In this new feature, we encourage readers to submit their pets (or ones they've found on the 'net) that display Pirate team spirit.
(Courtesy of Gucci's Girl)


WON 7-0
THE
SILVER
SKULLS




1) NICK GARGUILO
For his 2-goal outing (supposedly he was playing so well because he was attempting to keep away from the foul smell emanating from Tony's equipment).

2) HARRIS
For his 32nd career shutout.

3) BOB BROOKS
For his third (Pirate) career hattrick ... and covering for Bri on this newsletter.