SUNDAYS #1 vs. BRUINS:
(vol. 28S, no. 1; newsletter by brooks)
Winning is a great feeling. Winning against a team that is supposed to be better is even better. Winning against a team that had you beaten down after the 1st period? Priceless.

That was the story on Sunday night. We played a Bruins team that was second in the "A" division last season and was hungry to get things going for the new season. We began with Brooks-Murf-Tim and LeMatty-Farkas-DiPierro up front, while Kevin, Gucci, Russ and (the always subbing) Joe Baio manned the blueline.

we started out like #@&*$ and when we finally got our heads out of our @$% we were down three goals after the 1st period. But oftentimes as I've seen during my short tenure as a Pirate, Harris stood on his head and kept us in it and gave us the all-important chance to win — and we took advantage of it. During the final period we scored four unanswered goals: Farkas, LeMatty, LeMatty (assist to Kevin), and Farkas (assist to Lematty). The most important thing though, was that we didn't give the lead away once we had it. I thought we showed a lot of heart and considering we were without our best offensive player, Tony (Yes, Tony, i gave you your due even though you weren't even there). Without a doubt this was a great way to begin the new season ... but we have a long road ahead.
date of game: 12.10.06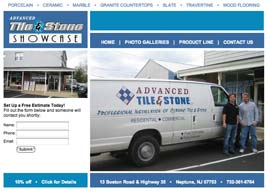 GLENN ON THE WEB
We all know Glenn as the Energizer Bunny-type forward for the Pirates, but did you know that "Glenn-Man" owns his own tile business with brother Bobby? Yep, it's true. Visit his new site and see for yourself.
[ click here for the website ]

WON 4-3
THE
SILVER
SKULLS




1) SCOTT LEMATTY
For his 3-point (2 goals) effort in the final frame.

2) GLENN FARKAS
For his pair of goals — including the gamewinner.

3) JOE BAIO
For some stellar "D" (which featuring a puck-to-the-head slapshot block in the 1st period).