SUNDAYS #8 vs. KINGS:
(vol. 28S, no. 8; newsletter by h.s.)
There are Seven Wonders in the World, but if you were at GoodSports on Sunday night you would have seen an eighth. I'm not talking about the dual-hattricks by Tony and Brooks (we'll get to that in a moment), but rather "The Great Wall of Gucci." Taller than the Great Pyramid of Giza and more-distracting than the Hanging Gardens of Babylon, Gucci strategically placed himself in front of my line-of-vision for 42 of the 44 minutes. What happened during those other 2:00-minutes, you ask? Well, Gucci conducted a little experiment: He moved completely out of the way and allowed the winger to start taking slapshots. Although this "worked" (we didn't give up any more goals), I wasn't sure if Brian Leetch would have approved of this method. Ok, enough about "The Great Wall of Gucci," now to the game ...

The Pirates met the Kings for the second time this season in the homestretch of the regular season. After back-to-back losses in the last two weeks, the Men In Black were looking for a "W" against the 0-6-1 Kings. Eight skaters were on the bench for the Pirates (Kevin, Russ, and Ralz were out. Ralz, however, was AWOL — and summarily fined for his disobedience). Up front we had five forwards: Glenn Farkas, Anthony, Brooks, LeMatty and Dan DiPierro (who is the only Pirate to not have played in our two losses): on the blueline we had Joe Baio, Murf, and The Great Wall.

In the opening :23 seconds we gave up a goal on a shot that deflected off some part of Gucci. He denies this, but the physics haven't been invented to allow pucks to change path like that without hitting something en route to the net. A few minutes later the Pirates went down 2-0 and all of sudden we were digging ourselves in a bit of a hole. To add to the excitement, Brooks took a penalty to give the Kings a powerplay opportunity. Fortunately, Tony scored shorthanded (assist to LeMatty) and the Pirates not only defused the powerplay, but got on the board 2-1. The next shift out, Brooks scored (assist to Tony) and then Brooks again, followed by Brooks once again (assist to Tony). That put the Pirates up 4-2 at the buzzer and gave Brooks his eighth hattrick, putting him in a three-way tie for third place with Kevin and LeMatty.

The final 22:00 minutes showed more of #8 and #12 in the scoring columns: Tony would score three times in-a-row (assists to Gucci, LeMatty, and Farkas), followed by Brooks (assist Baio) and finally Tony (assist Brooks). Somewhere in the melee, the Kings would net two more (assist Gucci), but at that point it really didn't matter because we were all wondering just how many points Brooks and Tony got. The answer was that they combined for a staggering 12 points (and they scored every freakin' Pirate goal).

Even more bizarre though was that somehow Gucci managed to go a minus-11 on the night — even though we only gave up four goals. Go figure. And just so everyone is clear, Gucci gave himself the nickname of "The Great Wall of Gucci."
date of game: 2.18.07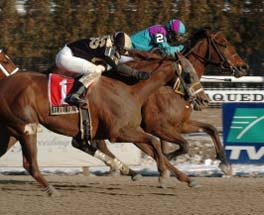 "WHAT A LONG STRANGE TRIP IT'S BEEN"
The headline above was the subject field of a message I received from our Captain while he was on vacation. What's it mean? Well, while Russ was in Florida he found out — via cellphone — that his horse Introspect won at Aqueduct on Sunday. Intro (as Russ calls 'em) withstood a stretch-long rally by Ferocious Won to score a head victory in the 29th running of the $72,425 Hollie Hughes Handicap New York-breds at six furlongs. What does that mean? It means beers are on Russ next post-game!