SUNDAYS #1 vs. CHIEFS:
(vol. 29S, no. 1; newsletter by brooks)
Another Sunday, another game. Another season, another week. Although we play different teams, for some reason it always seems like we are playing the Chiefs. We have a great history with them and it's always a good game. For our meeting this evening we debuted our new "full-time/temporary" goaltender, Doug Collimore. Ironically, we picked-up Doug on waivers from the Chiefs after he was released a few days before the new season. Facing his former team (and the goalie that took his spot) would make for an interesting backdrop for the opening game of the season.

Doug would make them regret their decision as he played a fantastic game for us, surrendering only two goals in 44:00-minutes. Although the teams were tied 2-2 at one point in the 1st period, Doug and the Pirates stepped it up with a big, final 22:00 minutes.

Our usual cast of characters were depleted by one-third for this outing as The Captain, Tony and Harris remain on D.L. with injuries. In Tony's place for the first part of the season will be Murf, while Glenn's brother Bobby Farkas is set to fill-in for Russ. (Ironically Bobby became the first Pirate to be "fined" in his debut game when he failed to show.)

Big Kevin, playing up front to start, opened the scoring (assist to the non-passing Brooks). Other goals were netted by Brooks, Tim, and Wildman. We held a narrow 3-2 lead at the break, but Wildman's tally in the waning minutes proved the back breaker for the Chiefs. We really clamped down on defense in the second part of the game to shut the #67s, er, the Chiefs, down. Next up we play the A-division Bulldogs, which is sure to be a big test for the B-division defending Champions.
date of game: 3.25.07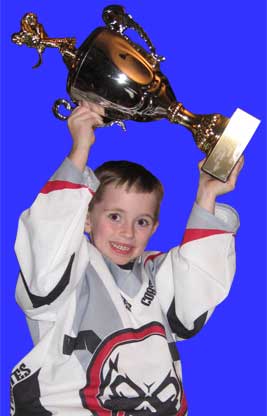 PIRATE PIC: "LOOK WHAT I GOT DAD"
Tim "Ralz" Hand scored the GWG in the Championship, but son Matty ended-up celebrating with the trophy (or "The Piston Cup" as he likes to call it). The Pirates have signed Matty as a free-agent in the 2032 draft.