SUNDAYS #10 vs. ST. PATS:
(vol. 29S, no. 10; newsletter by h.s.)
Besides Glenn Farkas streaking down the ice in the 1st period and scoring a shorthanded goal, I don't remember too much about our final game of the regular season. Glenn's tally (halfway through the period in the wake of a "holding" penalty by LeMatty) gave the Pirates the 1-0 lead. The St. Pats, however, would tally the next three.

Even though Anthony closed the gap to 3-2 on the first shift of the last period, the Pirates were never able to close the gap further.

Although the loss meant the Pirates split games with the St. Pats, the Men In Black still claimed the No.1-seed in the division with a 7-3 record. The Pirates now head into the Playoffs where they have the opportunity to repeat as Champions — a feat they have not duplicated since the Spring/Fall 2005 seasons.
date of game: 6.10.07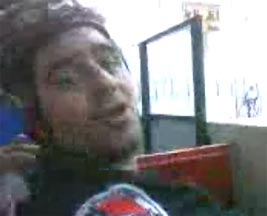 CAUGHT IN THE ACT: GUCCI GONE WILD!
Darren "Gucci" Gugglielmelli is caught on tape playing in a non-Pirate sanctioned game while clearly wearing the Pirate colors. "I had no other jersey," wailed a Paris Hilton-like Gucci. He was summarily fined.


LOST 3-2
THE
SILVER
SKULLS




1) GLENN FARKAS
For the SHG.