SUNDAYS #3 vs. ST. PATS:
(vol. 29S, no. 2; newsletter by brooks)
Another day, another game. This one, though, was one that Pirate fans look forward to as we faced long-time rivals St. Pats. This rivalry has heated-up recently as the last two Sunday Championships have pitted these teams against one-another. Two seasons back, the St. Pats dominated the Finals with a 6-4 win, but last season the Pirates avenged that loss with a 2-1 Finals victory.

The St. Pats, who always play us tough, came to town and took on a well-armed , full-staffed Pirates squad. This is one of those games that you look to the role players to make the difference. Defense is every bit as important as offense and — although I sound like a broken record — it's magnified against teams like the St. Pats because we're not going to score ten goals against them. That said, the key to winning is simple: Shut them down. We did just that, giving-up only one goal (which I'll take responsibility for since I didn't identify my man in front).

Dan DiPierro tallied our first goal on his opening shift and, after a long gap, Brooks and Bobby Farkas also put pucks in the net (assists from Brooks, Tony and LeMatty). The Pirates never trailed in this one and after securing a 3-1 lead midway in the final period, we never looked back. Incidentally, Anthony debuted his new white Pirate jersey and is now 1-and-0 while wearing this sweater.

We got a great game out of Doug who stopped just about everything, including a an off-the-post, over-the-head and then between-the-legs shot with minutes remaining. Harris was at the game to hand out the Championship t-shirts (see below) and even helped "The Fridge" break the "3-second rule" after Gucci dropped his pretzel over the side of the bench; Harris picked it up on command and Gucci ate it. Oh well. Harris might be equipment manager next ... after all we need someone to keep up on the website. (Just kidding, Harris.)
date of game: 4.15.07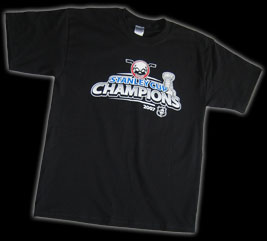 GET'EM WHILE THEY'RE HOT!
The new Pirate 2007 Championship shirts are out and they're flying off the shelves (we sold one to a passerby during Sunday's game which means sales are 100% more than previous years). Click the photo above for details.