WEDNESDAYS #1 vs. BOTTOM FEEDERS:
(vol. 29W, no. 1; newsletter by brooks)
Another new Pirate season begins and we're hoping for a better outcome then the previous Wednesday session. Most of the faces are the same, but Harris is out for most of the regular schedule — which caused an even more unusual situation for this game in particular.

Our first outing did not start out well though, as we did not have a goalie for the 1st period. Doug Collimore was scheduled to be in-between the pipes, but it turned-out he thought we needed him for Sunday's game instead of tonight. As a result, I "took one for the team" and stood in the net for most of the opening period until the Phantoms' goalie suited-up for us. Ippolito allowed only one goal in his 24:00-minutes in net and the team played an all-around solid game to secure the first win of the season. Unfortunately the team took a big loss when our Captain suffered a fractured wrist while blocking a shot in the 1st period. Russ played the rest of the game — and even scored a goal — but the puck-shaped break will sideline him for both Spring seasons. It seems that we are dropping like flies.

There was plenty of firepower for the Pirates on this night and the goals went like this: Brooks (unassisted), Gucci (unassisted), Gucci (assist Brooks), Russ (assist Brooks), Craig (assist Brooks), and Craig (assist Brooks).

I was happy to play a little net for half the game and this was a great way to start the season ... and hopefully a sign of great things to come.
date of game: 3.14.07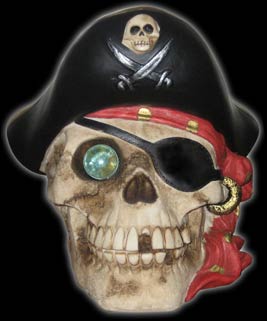 "BANKING" ON DOUG COLLIMORE
You might have think that Doug Collimore's "failure to appear" is punishable by walking the plank. Well, the S.O.C. is not only foregoing any punishment, but is honoring Doug for exhibiting "exceptional Pirate conduct." Why, you ask? The reason is that Doug schlepped back this awesome, life-sized skull piggybank all the way from Jamaica and presented it to us. He suggested we use it as the MVP trophy, but we're going to store the coins we use to buy the Pabst instead. Kudos to Doug!


WON 6-1
THE
SILVER
SKULLS




1) BOB BROOKS
For his successful schizophrenic outing: First, in net with his standard equipment (he didn't allow a goal for his 20:00-minutes in-between the pipes); Then, as a forward where he scored our first goal and had 4 assists.

2) DARREN GUGGLIELMELLI
For a couple of great goals.

3) RUSS NICOLOSI
For playing with a broken wrist. (He was injured in the 1st period blocking a shot and ended up in the E.R. later that night. That didn't stop him from scoring a goal though.)

INJURY REPORT
The Pirates are having rough times on the injury front. • Russ: Out for Spring seasons due to fractured wrist. • Tony: Out 4-6 weeks with torn ligament under collar bone. • Harris: Out for 6-8 weeks due to Appendix surgery. • Chris: Day-to-day, awaiting diagnosis in upper leg injury. • Nick: Out until August. Recovering from surgery on disc.

Now's a good time to pay your "fines" or bring some beverages to the post-game "meetings." After all, we don't want to see an end to the Pirate post-game tradition. (And we certainly don't want to disappoint Mike!)