SUNDAYS #2 vs. CHIEFS:
(vol. 30S, no. 2; newsletter by brooks)
Ah yes, time for another installment of the "Coastal Pirates meet the Chiefs." Based on our history one would figure it to be a close game. But hey, who studies history anyway?

We opened with Brooks-Glenn-Tim up front, with Russ-Mike on defense. Waiting in the wings were Dan DiPierro and Scott LeMatty with Murf originally subbing as the third blueliner (Kevin arrived late to take that spot which enabled us to have two full lines up front).

We opened the scoring up early by getting a pair of quick goals: Brooks (assist Tim) and LeMatty (assist Mike). The two-goal lead and the great start would last until the 7:45-mark when the Chiefs would knock in a rebound to pull to within one, 2-1. That's the way the 1st period would end.

The final 22:00-minutes would prove to be a slugfest in more ways than one. The Pirates regained their two-goal lead on a goal by Kevin (assist Brooks), but the Chiefs tallied the next two to tie things up 3-3. On the next faceoff though, the Men In Black (who's debut of their new jerseys were spoiled because they had to wear white) made it 4-3 on a goal by Brooks (unassisted). But once again, the Chiefs would refuse to quit and they knotted things up 4-4 on a nice backhand, top shelf tally. But some physical play by Kevin resulted in a loose puck to Brooks that gave the Pirates back the lead 5-4. With time dwindling, Kevin was called for a roughing while trying to keep the puck deep in the Chiefs end; On the following faceoff, the Chiefs would pull their goalie — giving them the two-man advantage — but Murf skated in alone to seal the victory with an emptynetter (assist Brooks).

Kudos to Kevin and Scott for throwing their weight around after some cheap shots, to prove we can't get pushed around. Great job for the win — and a 2-0 start to the season!
date of game: 7.15.07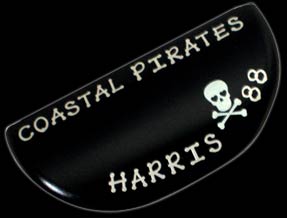 CUSTOM PIRATES GLASSES CASES UNVEILED!
From the person who brought you Coastal Pirate cookies and custom handmade Pirate lollipops (yes, Debbie — aka "Gucci's Girl") comes her latest creation: Customized Pirate eyeglass cases. These sturdy plastic shells have a Jolly Roger imprinted on them and Debbie will customize yours to your own specs! Best of all she's priced 'em cheap: $5 for name & number or $9 for name, number and team name. They're limited to 24 pieces and Deb is donating the profits to the post-game "meeting" fund — how's that for team spirit?!

( only $5-$9 / click here to order )



WON 6-4
THE
SILVER
SKULLS




1) BOB BROOKS
For the hat and the GWG.

2) KEVIN MCLAUGHLIN
For the big open ice hit that led to the game -winning goal.

3) KEVIN MURPHY
For some nice defensive play — even after he went to play offense.