WEDNESDAYS #4 vs. GERIATRICS:
(vol. 30W, no. 4; newsletter by b.n.)
I don't know what's more embarrassing: Playing three games against "A" opponents and only scoring one goal or playing the "B"-division Geriatrics and leading only 2-1 at the first intermission. Keep in mind that the Geriatrics were missing their No.1 sniper (and Coastal Pirate nemesis) Seth. Having trouble deciding? Well read on ...

As mentioned above, the Coastal Pirates doubled their offensive output for the season in the 1st period on goals by Gucci (on a rare pass from Brooks) and Evan (who buried a puck on a shot from LeMatty). The Pirates continued their offensive breakout in the final period on goals by Chris (who buried a rebound on a shot from the left wing by Brooks) and Wildman (who demonstrated that he has a better knuckleball then Tim Wakefield) when he beat the goalie on a feed from LeMatty.

All in all, it was a somewhat unsatisfying win considering the circumstances — no offense to Harris who made some stellar saves. But hey, we will take it. And much as it was last week, the race to the Rocket Richard Trophy is still anybody's to win, as five players are now tied with one goal a piece!

So did you decide what was most embarrassing? The final score was 4-1 Pirates, but I forgot to mention that the Coastal Pirates were skating with a full ten-man roster while the Geriatrics had only five. Now what do you think? (Just a hint for Wildman: it's a rhetorical question!)
date of game: 7.12.07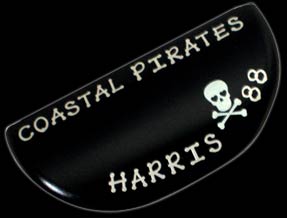 CUSTOM PIRATES GLASSES CASES UNVEILED!
From the person who brought you Coastal Pirate cookies and custom handmade Pirate lollipops (yes, Debbie — aka "Gucci's Girl") comes her latest creation: Customized Pirate eyeglass cases. These sturdy plastic shells have a Jolly Roger imprinted on them and Debbie will customize yours to your own specs! Best of all she's priced 'em cheap: $5 for name & number or $9 for name, number and team name. They're limited to 24 pieces and Deb is donating the profits to the post-game "meeting" fund — how's that for team spirit?!

( only $5-$9 / click here to order )


WON 4-1
THE
SILVER
SKULLS




1) DAVE MATTHEWS
For some great blueline play (must be a contract year for Dave).

2) SCOTT LEMATTY
For a 2-assist effort and yet another Wednesday subbing appearance.

3) HARRIS
For reducing his g.a.a. from 6.33 to 5.00.