WEDNESDAYS #5 vs. RED STARS:
(vol. 30W, no. 5; newsletter by b.n.)
Note from the Editor: The Coastal Pirates feel compelled to remind readers of the newsletters that the views expressed do not necessarily reflect those of the organization. They are presented here solely for your reading enjoyment (and because we can't find anyone else to write these).

What motivates some people?

Hmmm ... Let me think about it. Of course there are the seven famous ones ... Greed ... Envy ... Lust ... and those other four. But not everyone is motivated by one of those. Sometimes you have to try and dig a little deeper to find what truly motivates people. Like Scott Miller? Why won't he pass to his brother when he is wide-open in front of the net? Hmmm ... Can't really think of a reason ... Thankfully though, Gucci was not afraid to pass to Scott which set up the Pirates first goal. And None? What motivates None? (And who by the way is None?) Anyway, whoever None is, we should be happy he was there because he set-up Craig for the second goal in the 1st period. Dave? Forget it. No one knows what goes on inside of Dave's head. Probably has a lot to do with all that decompression and recompression that his brain has gone through on all those dives to the Titantic. Well one thing for Dave, unlike Scott, he is not afraid to pass to Evan which resulted in the third goal of the night. And Brooks? (Hah, good luck that one.) What would motivate someone to hit an unsuspecting teammate with a bottle after said teammate paid him a compliment? (Yeah, I know it was a plastic bottle, but it hurt!) Once again, I don't know.

I must apologize if you thought you were going to be further enlightened after reading this newsletter, but I guess that is life. But kudos to "None," whoever he might be — he picked-up his second assist of the night on Brooks' game-winning goal. Final score was another nail biter as the Pirates won 4-3. Oh, and by the way, at least we know what motivates #67 ... PBR.
date of game: 7.19.07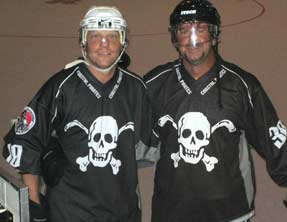 CRAZY EIGHTS
The Coastal Pirates unveiled their new home jerseys on this night. Craig Sudol and Dave Matthews (above) show off the new sweaters. Both had in common that the zeroes in the new numbering look like eights, giving the appearance that they changed their uniform numbers. Craig scored on his first shift out so there's no telling if he'll want to change his jersey once it's replaced.