SUNDAYS #1 vs. ST. PATS:
(vol. 31S, no. 1; newsletter by h.s.)
In my years playing for the Coastal Pirates, I have to say that this was perhaps the most exciting game in the history of the franchise. Unfortunately, due to yet another writer's strike amongst our newsletter authors, the details of this epic outing have been lost.

A week later, during a post-game "meeting," a group of us tried to reconstruct the night's events. Here's what we were able to recount: We trailed 3-0. We scored twice within a :30-second span towards the end of the 1st period, but the St. Pats added one more to bring a solid 4-2 lead into the break. After exchanging goals during the final period, they led 6-4 with only 3:00-minutes remaining. The Pirates narrowed the gap to 5-4 and then — in the closing minute — scored the tying goal (which I didn't get a chance to see because I dove into the bench for a delayed penalty call).

The game went into overtime — barely — as Joe Baio completed his hattrick just :32 seconds into the extra period. Game over.
date of game: 10.07.07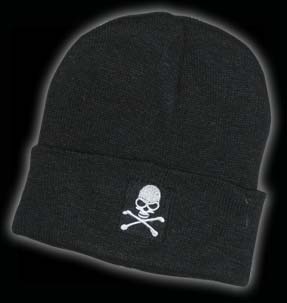 COASTAL COLD-WEATHER WEAR
Debbie (aka Gucci's Girl) strikes again! This time she's found a stash of Pirate-inspired knit hats — just in time for those chilly post-game "meetings." Price varies depending on how nice your email to Debbie is.

( debbie, i want a hat! / click here )



WON 7-6 (o.t.)
THE
SILVER
SKULLS




1) JOE BAIO
For his hattrick, including the game-winning goal on the opening shift of overtime.

2) ANTHONY TOSCANO
For his 3-point night, including the tying goal in the final minute.
3) GLENN FARKAS
For his 3-point night.