WEDNESDAYS #4 vs. GERIATRICS:
(vol. 31W, no. 4; newsletter by b.n.)
I remember when I used to like the Geriatrics ...
Back in the day ...
Years ago ...
When #67 graced the roster ...
And Harris hooked them up with the Pulitzer Prize-winning artist who designed their logo ...
Back in the day ...
When we were all friends.

But my how things have changed. I am embarrassed to say that the Geriatric roster, which used to be filled with guys that I would call friends, is now filled with a bunch of thugs — Hooligans. You name it, it is an embarrassment to hockey and a strike against GoodSports and all it's subholdings and conglomerates.

I for one have no idea how anyone who has anything to do with the day-to-day operations of GoodSports has anything to do with the Geriatric brand. In fact, I hope anyone who has any input into any Halloween purchases steers clear of Party City and any other place that looks, feels or smells like a Party City. Think about it. It is the point that matters. If you don't get it ... well ... you don't get it.
date of game: 10.08.07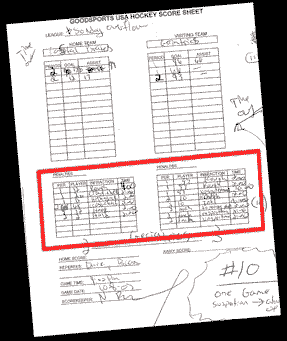 ONE FOR THE RECORD BOOKS
The 38:00-minutes of penalty time in this outing shattered the previous record of 22:00-minutes set six years ago. Highlights of this love-in included Brooks being evicted for his third penalty in the final minute and the Gerrys' #10 landing a one-game suspension for "abuse of referee." Besides Brooks, other Pirates who lost their chance at a Lady Byng were: Farrell (cross-checking). LeMatty (cross-checking), and Baio (holding). To read more about this and other Great Moments in Pirate Sportsmanship, visit the "Legends" page of the website and scroll down to the "Most Penalties Per Game" and "Most Penalties Per Period" headings.



LOST 3-2
THE
SILVER
SKULLS




1) NICK CAMPANALE
For his first tally as an official Pirate sub (and a nice assist on the second goal).

2) JOE BAIO
For his usual stellar "D" and for bringing Nick (see above).