SUNDAYS #6 vs. CHIEFS:
(vol. 32S, no. 6; newsletter by h.s.)
Except for a dramatic, late surge in the waning moments of the 1st period, this was a forgettable outing. But since this :90-second span was in fact one of the great moments in franchise history, it seems only fair to give it a little ink on the website ...

The Pirates trailed by a pair of goals (including an "own goal" by a blueliner who will remain unnamed) and looked to go into the break in a 2-0 hole. Then, at about the 18:30-mark, Scott LeMatty received an awesome headman pass done the middle from Gucci; Scott put the breakaway into the net to cut the lead in half. On the following play it was Wildman (posted on defense most of the evening) who meandered his way to the net to knot things up at 2-2. With the final seconds ticking-off the clock, Ralz then wrestled his way through the previously-impenetrable Chief blueliners and put in the third straight shot for the Pirates as the buzzer sounded. The goal gave the Pirate a 3-2 lead at the break and stunned the Chiefs.

Although we took the momentum into the intermission, we must have left it there on the bench. The Chiefs would tally four, unanswered times (Pirate players getting assists on two of those) in the final frame to cruise to the easy victory and snap the Pirates' two-game winning streak.
date of game: 1.27.08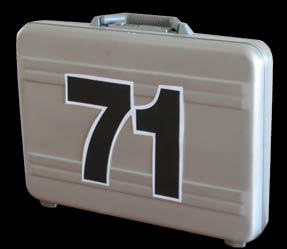 DARREN OR NO DARREN
Last Wednesday the Pirates had their screen test as Gucci produced his audition tape for "Deal or No Deal." The highlight of the taping were the Pirates grouped outside, surrounding a seated Russ and Mike Farrell. After Gucci's (somewhat lengthy) intro of every member of the team, Russ asked Howie Mandel what case he'd like and then gestured to our #71 briefcase shown above. Mike, on cue, then opened the case to reveal a photo of Gucci and chimed in "Good choice Howie!" The clip was done in only 26 takes.



LOST 6-3
THE
SILVER
SKULLS




1) TIM HAND
For the GWG ... if we played in a 22:00-minute league.