WEDNESDAYS #6 vs. BRUINS:
(vol. 34W, no. 6; newsletter by h.s.)
Our first inter-divisional game of the year and only four Bruins show up — and none of them are even a goalie. So Marty (subbing for Russ who's on the DL for 2-4 weeks with a torn calf muscle) put on the spare goalie pads and used one of my lefty sticks. After another twenty minutes of deliberation of whether or not Brooks and Victor could play for our opponents, we reclaimed our ref fee and played a 30:00-minute running time scrimmage because in the words of ref Baldwin, "We are running so goddamn late there's not way we're going to play a full game."

Here's the highlights: Brian folds like a deck of cards when he has no choice but to block an Alex Burke shot point-blank in the shin; Gucci blatantly trips Brooks on a breakaway that goes uncalled due to the fact that Mr. Baldwin exited the rink after we reclaimed the aforementioned $20; Brian gets his stick broken by Alex Burke as he attempts to pass by him; Scott LeMatty and Wildman open a Pirate hedge fund.
date of game: 7.16.08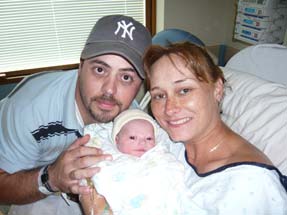 AND NOW A PHOTO WITH A BABY ...
Pirate Nick Garguilo (who's been on the I.R.) is now the proud father of a baby girl. Karen gave birth on July 14 to Addison Gretzky Garguilo, 6lbs. 4 oz., 18". (Her middle name is actually Elizabeth, but I wanted to see how many people read this far down the newsletter.) For the record, Nick says he couldn't find his Pirate baseball cap; we'll forgive him this time, but next kid he better get his act together.