SUNDAYS #3 vs. CANNIBALS:
(vol. 35S, no. 3; newsletter by h.s.)
After surrendering two 1st period goals and heading into the break trailing 2-0, the Pirates were struggling against the Chiefs. Then we juggled the defensive pairs and cued the music ... and "The Scott LeMatty Show" began.

Scott would score four times in-a-row — spearheading a barrage of six, unanswered Pirate tallies — to take the fight out of the Cannibals and give the Pirates their second Sunday win two games. Although Jay and Tony would also connect (the first and last goals of the night), the story was all Scott as everything he shot seemed to find net — including two precision passes (from Gucci and Farkas) that he put topshelf.

After taking a 6-2 lead, the Cannibals attempted a comeback and were able to score two late goals, but stellar defense kept them from closing the gap any further.

FOR THE RECORD
Attendance (players): DiPierro, LeMatty, McLaughlin, Gucci, Farkas, Nicolosi, Serkin, Toscano, Hand, Joe Baio (sub). Net: Harris.
Scratches: Farrell.
Scoring: 1st period: 2-0 Cannibals. 3rd period: 6-4 Pirates: Goals by Serkin (Toscano);LeMatty (Gucci); LeMatty (none); LeMatty (Farkas); LeMatty (none); Toscano (McLaughlin).
date of game: 10.01.08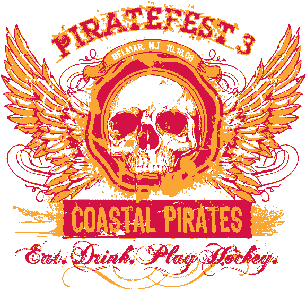 FIVE DAYS AND COUNTING
The 3rd Annual PirateFest is this Saturday (10.18) at the LeMatty estate at 1202 Bayview Ave., Belmar. Festivities begin at 1pm and already 29 have rsvp'd they're coming. With 30 still waiting to respond to the evite, this could be the biggest PirateFest ever. Rumors that Gucci is forcibly taking anybody left on the premises after 5pm to Atlantic City have not been confirmed.