SUNDAYS #5 vs. CHIEFS:
(vol. 35S, no. 5; newsletter by r.n.)
BREAKING NEWS: Since the writing of this newsletter, we found out that the Chiefs used an under-30 player for this game (he was the guy who scored the gamewinner in overtime). Because of this, two days after the game, League Director Bill Tuttle ruled the game "a forfeit" and awarded the Pirates the 1-0 victory. Our kudos to Bill for the quick — and consistent — ruling. In compliance with S.O.C. rules, "Skulls" awarded will remain, but stats for this outing will be deleted from the Stats page because the game "never took place."

Well guys ... Harris asked me to write this and to be honest, details are a bit shaky. I usually can tell you every detail of every goal, it plays back like a video in my head, but to be honest, I can't.

For the most part, what I do remember is not the good stuff. I know the Chiefs scored their early goals on a couple of turnovers and I also remember the game turning around for us once we stopped playing stupid. I believe that for one, Glenn Farkas got his head together and stopped leaving the defensive zone early and started really hustling and that caused a few good chances off turnovers. I also remember Harris coming up big on back to back breakaways and Tony getting pretty agitated at the non-calls and taking over the game. He and Jason seem to know each other pretty well and when they decide to apply themselves it is a pretty awesome display. Obviously, Danny's gritty style fits nicely with their playmaking ability so we will try to keep them together as much as possible.

I don't remember the details of the Chiefs' game winner so if anyone wants to add it for the record please do so. I don't remember being particularly pissed about it so I think they earned it and we didn't give it to them. (editor's note: The Chiefs scored at the 1:48-minute mark of overtime. Ironically, we beat the Chiefs 4-3 in our only other overtime game this season back in week 2.)

Now you all know why I try to protect my head, my memory is officially shot, seems I have trouble remembering anything except to have 4 good square meals a day.

FOR THE RECORD
Attendance (players): DiPierro, LeMatty, McLaughlin, Gucci, Farkas, Nicolosi, Serkin, Toscano, Hand, Farrell. Net: Harris.
Scratches: none.
Scoring: 1st period: 2-2 tie: Goals by DiPierro (Serkin); Toscano (DiPierro, Nicolosi). 3rd period: 3-3 tie: Goal by Toscano (DiPierro). OT: 1-0 Chiefs.
date of game: 10.26.08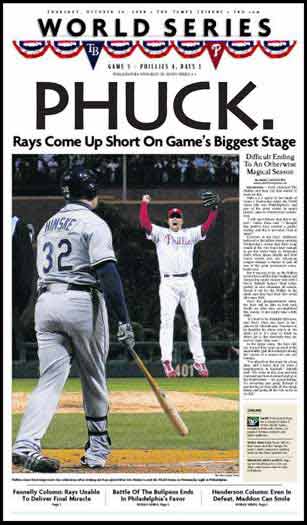 NOT EVERYONE WAS HAPPY
On the same night the Pirates lost 4-3, the Phillies beat the Rays 4-3 to clinch the World Series. Coincidence? Kudos to the The Tampa Tribune for some ambitious headline writing on their sports cover.