SUNDAYS #6 vs. CANNIBALS:
(vol. 35S, no. 6; newsletter by r.n.)
The best thing I can say about the Pirate performance on Sunday night versus the Cannibals is that we won. We were basically sloppy all night. There were a few nice pass plays including a one-timer goal by Glen Farkas off a pass from I believe Jason. The other goals were scored by Jason and I.
The Cannibals worked hard and kept the game close the whole way but we simply didn't execute all that well. Passes were attempted but were behind guys or in their skates. We gapped a lot too so although we locked it down pretty well in our end we didn't keep the kind of sustained pressure we keep on teams when we play well. As a result the game had the feel of a game of pond hockey with folks streaking up and back but not in an organized fashion that would create good scoring chances. To their credit, Piccolo and Harris both played solidly in net, which made the game significantly better than it could have been.

As usual in the Fall, the post-game meeting was a bloodfest of talk of killing, slaughtering and devouring defenseless peaceful herbivores that are prancing through the forest. For those of us that are peaceful this talk is disturbing at least. Most disturbing is if we don't get any of it to eat at post-game, why are we discussing it?

As for Gucci's football pool, Charlie Brown has better numbers than me. I'm starting to suspect the fix is in!!! Jeez, Brian won this week!

We best play better if we expect to do anything in the playoffs.

FOR THE RECORD
Attendance (players): DiPierro, LeMatty, McLaughlin, Gucci, Farkas, Nicolosi, Serkin, Toscano, Hand, Farrell. Net: Harris.
Scratches: none.
Scoring: 1st period: 2-0 Pirates: Goals by Serkin (none); Farkas (none). 3rd period: 3-1 Pirates: Goals by Nicolosi (Toscano).
date of game: 11.02.08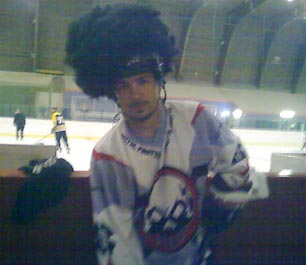 MANE EVENT
Tony skated his first shift Sunday night sporting this new doo in honor of Halloween. It was quite the site seeing him streaking behind the opponent's net with his locks waving in the breeze.