SUNDAYS #8 vs. BULLDOGS:
(vol. 35S, no. 8; newsletter by h.s.)
When you are facing the No.1 team in the "gold" division, it's a good idea to have a full squad. So when Gucci told me he'd be out that was a bit alarming ... but getting the text from Kevin on Sunday raised it to a DefCon1 status. After securing Joe Baio (who has now played more games for us then guys who are actually on the team), the "no can dos" for the tenth spot were coming in fast and furious. After calling four guys I gave up ... then I called Craig Grinberg (kidding, Craig). No seriously, I did call Craig but he couldn't make it either. Then I really did give up and started drinking.

Fortunately the nine guys who did show were a pretty formidable crew. We rotated three defense (Baio-Russ-Farrell) and had two lines of up front: Jason-Dan-Tony and LeMatty-Tim-Glenn. The Bulldogs drew first blood, but after their initial frenzy of domination we seemed to settle down and realize this game was going to be fought in the trenches with through scrappy hockey. Russ got a penalty early on and that's when Tony offered-up a little bit of his magic by scoring shorthanded to knot things up at 1-1. Dan added a tally later on and at the break we were actually ahead of the league's best team.

We would trade-off goals in the final period, but we kept a 3-2 lead with 5:40 remaining on the scoreboard. The Bulldogs were throwing everything they had at us — firing shots from all points — but fortunately Gucci wasn't tipping any of these into our own net on this night so we stayed ahead. Then, in the final minutes, the Bulldogs did even things up, but we stayed cool and pushed the game into overtime.

After 3:00-minutes of more hand-to-hand combat, the game was still tied and each team — the top seeds in the "Gold" and "Silver" divisions — were left with a 6-1-1 record. I know they say there's no such thing as a good tie, but ...

FOR THE RECORD
Attendance (players): LeMatty, Farkas, DiPierro, Nicolosi, Serkin, Toscano, Hand, Farrell, Baio (sub). Net: Harris.
Scratches: Gucci, McLaughlin.
Scoring: 1st period: 2-1 Pirates: Goals by Toscano (Baio) SHG; DiPierro (Toscano). 3rd period: 3-3 tie: Goal by DiPierro (Toscano). OT: no goals.
date of game: 11.17.08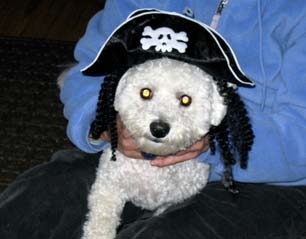 NEW, NEW MASCOT NAMED
"Captain Ballsteen," who was recently signed to a contract as the official team mascot, was arrested in his hotel room earlier this week after being found with 10oz. of Ken-L Ration. He is currently in rehab, but the Pirates have replaced Mitch with "Chance the Crazy Bichon Wearing a Pirate Hat & Wig" (pictured above). Chance epitomizes the "Pirate game": Cute and furry, yet dangerous.