WEDNESDAYS #6 vs. CANNIBALS:
(vol. 35W, no. 6; newsletter by b.n.)
You know, if you asked me last week, I would have bet Harris' Hummer that Bobby Currao would be making his first appearance of the season. But no, it seems that you are more likely to witness a chiropractor making a house call at a Pirate post-game "meeting" then you are of actually seeing Bobby step on to the floor donning a Coastal Pirate jersey.

But maybe he didn't get the message about the revised gametime. Because for the first time that I can ever remember, the Wednesday night Coastal Pirates played a game on a Tuesday Night. Sure we have played the occasional Monday night, but never — as far as I can remember (and that's a good two or three seasons) — have we played on Tuesday.

The Pirates were up against the Cannibals who were sporting a very familiar face, none other than Tony Toscano .... wait, didn't he used to be on the Pirates? I wonder why we couldn't get him to take Mike's spot ....

Anyway the Pirates were able to score once in the opening period when #67 fed LeMatty from behind the net. The final period saw Kenny G snag a nice deflection off a Gucci shot. Scott Miller also scored from a similar spot on a feed from Marty. At 3-1 with under 4:00 minutes to go, it looked like the Pirates were cruising to a nice victory, but then Tony broke loose and made it 3-2 on a diving rebound. That was followed-up shortly thereafter by puck which bounced-off a Pirate and into our own net (for the second time this night) ... and just like that it was 3-3. And if it wasn't for some stellar saves from Harris (including a breakaway on Tony) it would have been an ugly night. The Pirates were lucky to make it to overtime with the game tied 3-3.

As the game went into overtime, Gucci picked-up the puck shortly after the opening face-off and fed it to Wildman who carried it into the Cannibals zone,; he fed it to LeMatty who crossed the puck in front of the net where #67 blasted a one-timer into the net, ending the game just :22 seconds into overtime.

And that just shows you why you never follow doctor's orders ... unless of course you're in need of a back-cracking by the team chiropractor of course.
(To better understand this ending, see below.)

FOR THE RECORD
Attendance (players): Matthews, Cassens, Newcomb, LeMatty, Miller, Maccanico, Genalo, Gucci, Baio (sub). Net: Harris.
Scratches: Nicolosi, Currao (AWOL).
Scoring: 1st period: 2-1 Pirates: Goal by LeMatty (Newcomb). 3rd period: 3-3 Tie: Goals by Genalo (Gucci); Miller (Maccanico). OT: 1-0 Pirates: Goal by Newcomb (LeMatty).
date of game: 10.14.08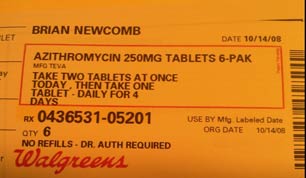 WALKING PNEUMONIA
Our very own #67 was diagnosed earlier in the day with a case of "walking pneumonia" and given the above perscription. Fearing that it might impair his game, he decided not to take the medicine. He went on to score the overtime-winning goal, but washed down the Rx with a PBR later.