SUNDAYS #8 vs. BULLDOGS:
(vol. 36S, no. 8; newsletter by r.n.)
The Pirates met with the Bulldogs at the plastic pond of GoodSports on Sunday and the highlight for the Pirates was the post-match yelling with Cannibal players. I guess that speaks pretty clearly about the play of the Pirates on this night.

The Pirates were two players short until Gucci found a skate lace and then we were only one short as Mike was AWOL. Once Gucci joined we had pretty typical lines of Tony-Jay-Dan and Russ- Scott-Glenn, with Kevin, Joe and Gucci on defense.

To be honest, the TD&J line had a few good shifts early that kept the pressure on The Dogs but couldn't tally. The Dogs scored on a number of turnovers as The Pirates pushed to breakthrough. After The Dogs scored their second goal their confidence was high and they moved the puck very nicely. Harris made a number of big saves that kept us in the game but it was apparent on this night The Pirates didn't have the initiative that it would take to make up for the skill gap between ourselves and The Dogs.

Good news is that Jay kept up his hot scoring touch with two goals, one off a feed from Dan and the other off a turnover. In the final period, it seemed The Dogs were focused on shutting down Tony. Tony's frustration was evident and the rest of us tried to pick up our game to fill the void. Kevin scored on a point slapper and Russ scored on a roof shot from in close, but it wasn't nearly enough to overtake the outstanding play of The Bulldogs.

We have played with some of these better teams more competitively when we come ready to play and are focused on out hustling them. We simply can't compete with these teams unless we out work them and have a complete team. We'll need to correct this recent trend if we hope for any success in the Playoffs.

FOR THE RECORD
Attendance (players): Toscano, Serkin, DiPierro, LeMatty, Nicolosi, Gucci, Farkas, McLaughlin, Baio (sub). Net: Harris.
Scratches: Hand, Farrell (AWOL).
Scoring: 1st period: 4-2 Bulldogs: Goals by Serkin (DiPierro); Serkin (none). 3rd period: 9-4 Bulldogs: Goals by McLaughlin (none); Nicolosi (none).
date of game: 2.02.09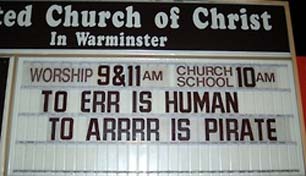 NOW FOR SOMETHING COMPLETELY DIFFERENT
If you have bizarre submissions for the website, feel free to send'em in. We'll be using them to brighten-up newsletters of games where we lost by more than 4 goals.