WEDNESDAYS #2 vs. CANNIBALS:
(vol. 36W, no. 2; newsletter by b.n.)
I remember the last time the Pirates got moved up to the "A" division. It wasn't pretty. In fact, I think that we were mercied just about every game. I think Scott Miller won the Rocket Richard trophy — with 2 goals for the entire season!

But hey, I'm sure that the same thing won't happen this season. Sure we lost the first two games of the season .... and we were pretty much spanked by the Cannibals, a team we used to spankify on a routine basis (of course that was when Tony played on our team and not their's). But I am sure things will turn around ...

But if not, there was one good thing that we got from our last foray into the "A" division — new water bottles!

FOR THE RECORD
Attendance (players): Newcomb, LeMatty, Gucci, Wildman, Maccanico, Genalo, Nicolosi, McLaughlin (sub), Baio (sub), Farrell (sub). Net: Harris.
Scratches: Gesior, S. Miller, Matthews.
Scoring: 1st period: 4-0 Cannibals. 3rd period: 6-2 Cannibals: Goals by Genalo (none), PPG; McLaughlin (none).
date of game: 12.17.08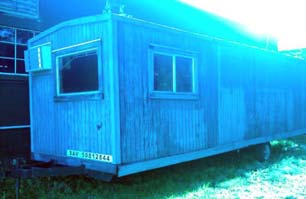 WELCOME TO "CLUB COASTAL PIRATES"
We are anxiously awaiting word from Danny Pepe on whether we have approval to park Brian's company office trailer by the GoodSports bubble. If they agree, then our Winter post-game "meetings" will be conducted in the warmth and luxury of this state-of-the-art facility.