WEDNESDAYS #9 vs. BUCKSHOT:
(vol. 36W, no. 9; newsletter by b.n.)
You know, my ad used to always tell me — no wait, I think it was my mom — anyway, she used to say, "Be careful what you wish for." Now that I think about it, I don't think that it was either of my parents that said that, I think it was my old boss, whose job I ended-up taking (and had to fire him in the process).

Anyway, enough about that ... The Pirates drew the Buckshot in the first round of the Playoffs. The team is relatively new to the Wednesday Night league, but I have heard all sorts of rumors about what goes on in the Friday Night league. Due to my journalist integrity however, I can't repeat the outrageous behavior that has been attributed to the Buckshot. The Pirates history with the Buckshot has been brief: We played them to a tie last season (where they went on to win the "A" division) and we pulled-off a win earlier this season. As far as I can remember (which is sometimes less than a few hours), the Pirates have never faced the Buckshot in the Playoffs.

Since it has been more than a few hours since the game ended, I don't have a clear memory of the 1st period. The Buckshot may have scored on their first shot on net ... or maybe that was another game that I was misremembering. (editor's note: It was another game you were remembering.) The Pirates answered back with tallies by Nicolosi (from LeMatty) and Gucci (unassisted). I actually remember the third goal of the game: Marty hit Scott Miller for a sweet one-timer.

The turning point in the game may have occurred early in the final period: #67 looked to pass the puck to Kenny, but instead it went right to one of the Buckshot's big guns who wound up and uncorked a blistering slapshot; #67 was able to stick out his stick and the shot hit the shaft dead center in one of those classic "look what I found" moments; The puck then bounced right in front of #67 who fired it up to Marty who turned what could have been a 3-2 nail biter into a 4-1 cruise.

If that wasn't the turning point, then it certainly came shortly thereafter as Harris found himself laying flat on his back as a Buckshot player fired the puck into the seemingly empty net ... but wait ... Harris was able to flip his feet into the air, like a peacock unfurling his feathers and the puck hit either his foot or one of his wheels, and that redirected it enough so that it cleared the crossbar.

The Pirates went on to score with LeMatty on a powerplay from Nicolosi and then it seemed that McLaughlin was scoring at will as he tallied one shorthanded and then even-strength. The Buckshot, on the other hand, were only able to put the puck past Harris once more in the final period as the Pirates rolled to a 7-2 victory.

But you know what I hated most about the night? As I was walking into the rink that night I walked past Tony who said, "I hope you guys win" and then I passed Sean who said, "You really need to beat these guys." These guys, who play for the No.1-seeded Cannibals were just coming-off a "victory" (the Bruins showed-up with only four players) that propelled them into the Finals against the winner of our game. Maybe it's just me, but Tony might have well said, "These guys are better than you, and since we don't want to face them next week, I hope you guys win."

Well, like my grandfather used to always say, "Be careful what you wish for."

FOR THE RECORD
Attendance (players): Newcomb, Nicolosi, S. Miller, Gucci, LeMatty, Wildman, Maccanico, Genalo, Baio (sub), Farrell (sub). Net: Harris.
Scratches: Gesior, Matthews (n/q).
Scoring: 1st period: 3-1 Pirates: Goals by Nicolosi (LeMatty); Gucci (none); S. Miller (Maccanico). 3rd period: 7-2 Pirates: Goals by Maccanico (Newcomb), PPG; LeMatty (Nicolosi), SHG; McLaughlin (none); McLaughlin (none).
date of game: 2.11.09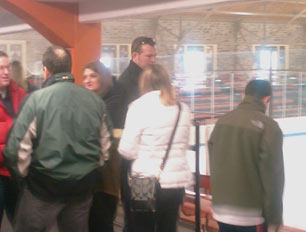 BREAKING NEWS:
MARTY IN NET FOR PIRATES WEDNESDAY?
Princeton (AP) — Rumors have circulated that perhaps Devil Martin Brodeur is worried about losing his starting status to Scott Clemmensen. So #32 (aka #67's son Dave) caught-up to Marty at one of his Pee Wee games where Marty's son was playing, and where #67 snapped the above image. Although they did discuss the netminder's future, we have not been able to confirm reports that #32 offered Marty the starting spot on the Coastal Pirates.