WEDNESDAYS #5 vs. CANNIBALS:
(vol. 37W, no. 5; newsletter by b.n.)
editor's note: This outing featured the 2nd most penalties in Franchise history (26:00 minutes, including the game misconduct for the Cannibals player) and the 3rd most penalties per period (14:00-minutes, which does not include the 10:00-minute game misconduct). Congrats to all on the historic effort!
When I checked the website last week, the Coastal Pirates had two wins. But unfortunately when I just checked it a few moments ago, they only had one. How's that happen? I am not quite certain, but my guess is that Tony probably called the front desk pretending to be Brooks and ratted us out. What gives?

Other than the collapse against the Pipe Down Dragons, the Pirates have lost three games by one goal in each game. Geez. It's got so bad that with only a handful of games remaining, the Pirates have been reduced to scoreboard watching in order to make the Playoffs. With yet another loss to the Cannibals this week (5-4), the Pirates have four games remaining — two against non-division teams or, more specifically, "Man I hope the Pirates can beat these guys" teams. Meanwhile the Bruins, who have one more win than the Pirates, have only one non-divisional opponent remaining. (The odd thing is that the non-divisional game the Bruins already played was a loss, so who the heck knows.)

All I know is that the winning starts this coming Wednesday. If not, then the Pirates will be having their inaugural Hockey golf outing very soon.

FOR THE RECORD
Attendance (players): Miller, LeMatty, Gucci, Wildman, Maccanico, Newcomb, Genalo, Matthews, Nicolosi, Grinberg (sub). Net: Harris.
Scratches: Gesior.
Scoring: 1st period: 2-1 Cannibals: Goal by Nicolosi (Newcomb). 3rd period: 5-4 Cannibals: Genalo (none); LeMatty (Maccanico); Nicolosi (none).
date of game: 3.30.09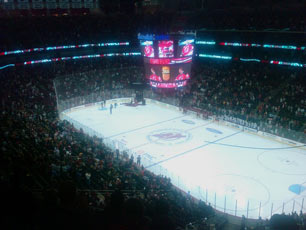 BEST EXCUSE YET
It took nearly a week for us to get this newsletter from #67. After repeated requests the only thing we received was this cellphone photo from the Devils game where Marty was honored for his 552nd win. Brodeur's just three shutouts away from breaking Sawchuk's record, so Bri will probably parlay that into another newsletter extension shortly ...