SUNDAYS #8 vs. JAGUARS:
(vol. 38S, no. 8; newsletter by b.n.)
The Sunday Pirates found themselves up against the Sunday Jags and for those paying attention, those two teams are scheduled to play again on Wednesday. And no, no matter how many times Harris asks me, I am not on the Jags on Wednesday Night.

But that is really not important ... until Harris asks me again. Anyway, the Jags (who I have played for in the past on Sunday) were sporting a few ringers. Well, maybe ringer isn't the right word. Perhaps non-rostered player might be better. I noticed the Villa brothers on the team last night and I didn't think that they were on the team. (They weren't last season and, until last night, I never saw them play for the team this season. But who cares really? Before I know it the season will be over and someone will return to claim their spot on the Pirates and I will be forced to return to the Jags — that would be on Sunday night Harris, not Wednesday.) So maybe when that happens I will find out if the Villas are on the roster or not. I could check with the S.O.C. and see if they made an official inquiry into the league offices, but what would that matter? The Jags are like 0-7 (not much different than when I was there).

So when the Pirates jumped out to a 3-0 lead, who could blame the Pirates when they laughed off the double threat that the Villa Brothers posted? (There was some other new guy that was wearing a Cannibals jersey, but since I don't know who it was I don't want to accuse him of being a non-rostered player.) But as I was saying the Pirates were cruising with a 3-0 lead with less than 2:00-minutes to go in the 1st when Scott LeMatty won a sweet face-off on his backhand — clean! Unfortunately he won it back so quick that Harris did not have time to react and boom! It was in the net. Just like that. (And that's when Kevin said "Well, that's one for the newsletter!") And then I think one of the Villa Brothers came down the right wing and fired a shot off that clanked off the post and bounced off of Harris' back and went into the net. At this point Kevin stormed off the rink. Initially I thought that Kevin was making a beeline to the league offices to protest the status of the Villa brothers, but I found out after the game that it was just Kevin heading to the parking lot to get his extra stick (apparently his stick broke). Kevin was gone so long that he must have had a few beers with the Bruins in the parking lot ... Anyway, all this overshadows the hattrick that I believe Rob scored or would soon score. Anyway after 1st the score was a nailbiting 3-2.

The final period? Not so close, I think the Pirates picked-up another four goals. The Jags managed to put one in during the final minute of the period (again).

And Harris? Just in case you haven't figured it out yet, I don't play for the Jags on Wednesday Night.

FOR THE RECORD
Attendance (players): Cassens, DiPierro, Farkas, Irausquin, LeMatty, McLaughlin, Newcomb, Trochiano (sub), R. Trochiano (sub). Net: Harris.
Scratches: Hand, Nicolosi, Nicholson (out for season).
Scoring: 1st period: 3-2 Pirates: Goals by R. Trochiano (Lematty, Newcomb); R. Trochiano (LeMatty); LeMatty (R. Trochaino). 3rd period: 7-3 Pirates: Goals by R. Trochiano (McLaughlin); Farkas (none); DiPierro (LeMatty); R. Trochiano (DiPierro), PPG.
date of game: 8.02.09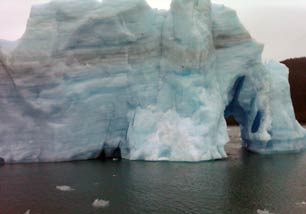 BEST & WORST EXCUSES FOR MISSING A GAME
Tim "Ralz" Hand was absent this Sunday due to his wedding anniversary. When we tried to get Scooby to sub for him, we got the photo above emailed to us with the text "Can't. Diving in Alaska." Which is a better reason to miss a game?