WEDNESDAYS #1 vs. PHANTOMS:
(vol. 38W, no. 1; newsletter by h.s.)
Things were a bit chaotic for the first 15:00 minutes of the new season. In terms Russ might use, we hit the "trifecta": Our Captain was in Michigan, Wildman called out a half-hour before gametime, and two new Pirates were making their regular-season debut. Adding to the confusion was that we had only seven guys on our bench at the start of the game, so our carefully-planned lines were pretty much out the window.

Although we'd eventually end up with ten skaters, the Phantoms took advantage of the initial confusion by scoring three unanswered goals (including a powerplay). After their third tally (a net-crashing affair), I called a timeout so we could re-group — or, more accurately, "group" since we finally had all our guys. Our defensive foursome would be Mike, Kevin, Joe Baio and Rich Trochiano. (editor's note: For clarity's sake we will henceforth refer to Rich Trochiano as "Troch" so as to not confuse him with brother Rob, who ran home to get his stuff so he could sub in for Wildman.) Because centers were at a premium, up front we had Scotty Miller centering LeMatty and Jason Bissey, while Marty centered Rich Trochiano and Dave Matthews. After the timeout a rejuvenated Pirate team took to the ice. Marty would get us on the board (assist Kevin) and it looked like we'd go into the break trailing 3-1. But not so fast. Rich Trochiano grabbed a loose puck in the closing seconds and, with :01.6 remaining, slapped a shot from center that beat the Phantoms goalie at the buzzer.

The Pirates kept coming in the final frame as well. Rich appeared to have knotted things up at one point, but the puck apparently never crossed the line. (At the post game "meeting," Jason revealed that his enthusiasm after the play was in an effort to better sell it to the refs — gotta love that.) On the following faceoff to the goalie's right, Marty won it cleanly back to Kevin who rocketed it top shelf for the goal. Tied at 3-3 it looked like the Pirates were destined to win this one. Unfortunately no one told the Phantoms that. At the 16:00-minute mark, they broke the gridlock with a nice pass to a breaking forward for the easy put in. Then Mike scored ... but it was in our own net. The Phantoms had gained control deep in our zone and, with bodies flying everywhere, they put it on net where it found Mike's shin guard. We both heard the dull thwack of the puck on plastic and next thing it was a 5-3 Phantoms lead. Although we made some spirited plays (including another "Hail Mary" by Kevin with the extra skater that nearly went in), we couldn't close the gap and the comeback of the century wasn't.

Even with the loss, this team has the makings of something great — if not on the ice, then definitely for its post-game "meetings." Eight Pirates convened in the parking lot and succeeded in emptying the beer bag (the new guys even drank Pabst™). During the post-game we briefed the new members on Pirate etiquette (never open a beer if you don't intend on finishing it) and some League rules (don't hammer guys into the boards Rob, it's a non-checking league). Now all we need is for Scott to bring his pulled-pork sliders, Kevin to bring his grill, Dave to bring his Cohibas ...

FOR THE RECORD
Attendance (players): Bissey, Farrell, LeMatty, Maccanico, Matthews, McLaughlin, Miller, Trochiano, Baio (sub), R. Trochiano (sub). Net: Harris.
Scratches: Cassens, Nicolosi.
Scoring: 1st period: 3-2 Phantoms: Goals by Maccanico (McLaughlin), PPG; Rob Trochiano (none). 3rd period: 5-3 Phantoms: Goal by McLaughlin (Maccanico).
date of game: 6.10.09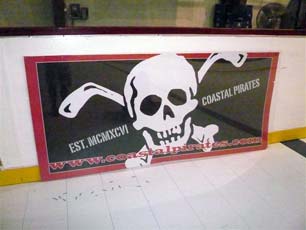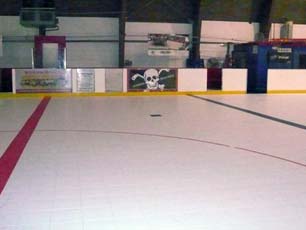 A GOOD SIGN
After being out of commission for a couple of months, the Pirate dasherboard is back. Special thanks to Danny Pepe and new league director Steve Tunis for the great placement — right in front of the Pirate bench!