SUNDAYS #2 vs. DUCKS:
(vol. 39S, no. 2; newsletter by r.n.)
Sometimes you look out on a pond and you see just too few ducks in the gaggle. It makes you think, what happened to the rest of the ducks?

Last night the plastic pond was holding the minimum supply of Ducks and the ruthless Coastal Pirates sailed in and put them through a methodical assassination. The Ducks didn't just sit there like decoys — they fought hard (that goes without saying when Charlie Milo is on the Duck team). Their keeper played very well and they didn't go without a fight. As for the Pirates, Harris made a few big saves including a great glove save on a 3-on-0 to preserve his shutout. The offense could best be defined as unselfish. Passes were flying around like casino chips at Gucci's craps table. I was the beneficiary of great passes from Glenn and Dan. Jay added a few tallies and John had a goal. And of course it was great seeing Joe Baio in Pirate black.

The score could have been even higher with a little more accuracy and the Duck goalie a little less proficient.

FOR THE RECORD
Attendance (players): Cassens, DiPierro, Farkas, Gucci, Hand, LeMatty, Newcomb, Nicolosi, Serkin, Baio (sub). Net: Harris.
Scratches: McLaughlin.
Scoring: 1st period: 3-0 Pirates: Goals by Nicolosi (none); Serkin (none); Nicolosi (DiPierro). 3rd period: 6-0 Pirates: Goals by Cassens (DiPierro); Serkin (none); Nicolosi (Farkas).
date of game: 9.20.09


WON 6-0
THE
SILVER
SKULLS




1) RUSS NICOLOSI
For the hattrick.

2) DAN DIPIERRO
For the helpers.

3) HARRIS
For the shutout.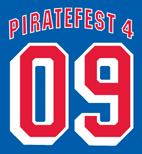 LET'S GO PIRATES!
Piratefest IV is Saturday in Howell at Wildman's estate. Bring friends, family ... beer!



[ click for evite ]



[ email wildman ]