SUNDAYS #7 vs. TEAM BC:
(vol. 39S, no. 7; newsletter by r.n.)
editor's note: a slightly longer recap from the the Cap'n this week.
There is one week a year when I canít stop thinking about speed. This is that week as this Friday and Saturday will be The World Thoroughbred Championships better known as the Breeders Cup. $100 Million + worth of horse flesh competing for nearly $20 Million in purses. The challenge of determining winners this week is like doing the Sunday NY Times crossword puzzle. For those of you who havenít tried doing that puzzle it is almost as difficult as getting the entire Pirates team on the rink in time to play. So since I am thinking of speed, letís talk about the Coastal Pirates.

On Sunday, the Pirates used blazing speed to put the hurt on Team BC. Led by the flashy line of Toscano, Serkin and Cassens which accounted for five goals (to be more accurate, Jay was responsible for finishing on all five). The threesome was nearly flawless speeding end-to-end like California Flag cutting 42 flat down the hill at Santa Anita, pouncing on loose pucks in both ends like Calvin Borel finding a seam between horses just in time to dart home for the win and moving the puck faster than a quarter horse at Los Alamitos. Sorry it is a racing week. That big stud Gucci and the degenerate horseplayer Nicolosi added goals and so did Brian (nothing to say about him because in five years it will turn into some obscure story about who knows what and who knows who). 88 was solid in nets. So hereís to speed ... and winners. Letís hope for more of both as the week proceeds!

FOR THE RECORD
Attendance (players): Cassens, Farkas, Gucci, LeMatty, Newcomb, Nicolosi, Serkin, Gesior (Sub), Toscano (sub). Net: Harris.
Scratches: DiPierro, Hand, McLaughlin.
Scoring: 1st period: 4-3 Pirates: Goals by Nicolosi (none); Serkin (Gucci); Serkin (Toscano), PPG; Gucci (Serkin), PPG. 3rd period: 8-4 Pirates: Goals by Serkin (none); Newcomb (Serkin); Serkin (Toscano); Serkin (Toscano).
date of game: 11.01.09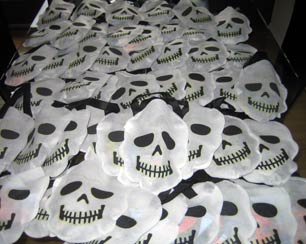 PIRATE HALLOWEEN TRADITION
The 2009 goodie bags were distributed amongst the troops last week. In case you missed the memo, these babies glow-in-the-dark (that's right, charge'em up beneath a bright light and check it out!). Included were vintage hockey cards complete with 18-year-old bubblegum (you might want to grab that from the kiddies before they eat that and the rookie Sakic) ...