SUNDAYS #8 vs. BULLDOGS:
(vol. 39S, no. 8; newsletter by h.s.)
A loss is never great, but to play the No.1-seeded, A-Division Bulldogs and get out 3-0 isn't too shabby. A couple of posts and couple of lucky bounces and it could have been a different game.

We had a 10-man crew again (Hand was touring with Bruce I believe), but Eddie filled his spot. Beyond that, the details are hazy and we'll forego awarding Skulls due a lack of memory, more than a lack of effort ...
Even though we lost this outing, ironically our first game of the season against the Bulldogs turned-out to be critical for us. That 3-3 tie to start the season gave us the one extra point in the standings to grab the No.1 spot in the Silver Division. Because the Ducks disbanded, that No.1 spot (with an unimpressive 3-4-1 record) earned us a first-round bye in the Playoffs and a path directly to the Finals.

Ironically again, we'd meet the Bulldogs in our first-round bye scrimmage game since they turned-out to be the Gold Division No.1 team. That outing, however, was not as impressive however as we lost 6-1.

But onto the Championships! The Pirates play the Jaguars, the No.3 seed who upset the Cannibals in the Semis. The Sunday Pirates are in pursuit of their first Title in 2009 — the last chance for a Title before the New Year. Let's go Pirates!

FOR THE RECORD
Attendance (players): Cassens, DiPierro, Farkas, Gucci, LeMatty, McLaughlin, Newcomb, Nicolosi, Serkin, Gesior (Sub). Net: Harris.
Scratches: Hand.
Scoring: 1st period: 2-0 Bulldogs. 3rd period: 3-0 Bulldogs.
date of game: 11.08.09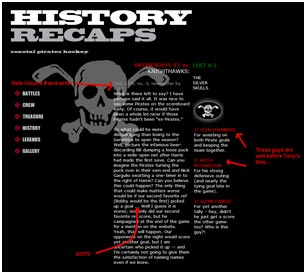 AND NOW, THE INEVITABLE REBUTTAL ...
If you read the newsletter from the Wednesday Championship game, you probably noticed the friction between #67 and Tony about who owns the intellectual property of "..." in the newsletters. The story continues here with a response from Brian ...
What? Did Tony think I wasn't going to check it?
According to Tony: "The referenced '...' IS my thing, it's written — go back to the Archives man! I'm officially applying for a Coastal Pirate trademark through the S.O.C. on this"...
Well Tony ... I did.
And you know what I found?
Or more appropriately: And do you know what I found ... ? Dots ... and I didn't have to look to far.
So good luck with that trademark ...

[ click evidence above to enlarge ]