WEDNESDAYS #4 vs. GERIATRICS:
(vol. 39W, no. 4; newsletter b.n.)
editor's note: We are running this newsletter from #67 in the original format we received it. We believe the typos may be attributted to the drugs he was on after surgery. In any case it makes for some fun reading!
You know ... Who could blame the coastal pirates? Afterall .... Didn't they win the previuos week 8-0 ? ... And didtn they win 3-0 the wek prior to that ? and throw I. A SUNDAY night game with an 8-0 score and maybe the pirates were feeling somewhat invinceable .... After 1 period ? Pirates 2 Geriatrics 0 ... So maybe I was thinking about that record scoreles streak at half time ... Well didn't have to think too long becase the Gerys finally broke throughh 2 minutes in ...

But you gotta say to yourself .... No big deal .... The Geriatics were using a goalie that hasn't played since the old eatontown days ... So how could he be? well the answer happens to be just good enough as he was able to hold off the Pirrates 6-4.

FOR THE RECORD
Attendance (players): Cassens, Farrell, Genalo, Gesior, Gucci, LeMatty, Matthews, Miller, Newcomb, Nicolosi. Net: Harris.
Scratches: none.
Scoring: 1st period: 2-0 Pirates: Goals by Miller (Nicolosii); Farrell (Cassens). 3rd period: 6-4 Geriatrics: Goals by Gucci (none); LeMatty (Miller, Newcomb).
date of game: 9.21.09


LOST 6-4
THE
SILVER
SKULLS




1) MIKE FARRELL
The other guy wearing the "Farrell" jersey — Mike, not Marty — scores.

2) SCOTT LEMATTY
For the tally with :11 remaining (didn't matter, but was still pretty dramatic).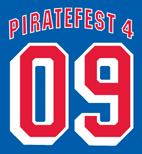 IT'S HERE!
Piratefest IV is Saturday in Howell at Wildman's estate. Bring friends, family ... beer!



[ click for evite ]



[ email wildman ]