SUNDAYS #10 vs. JAGUARS:
(vol. 40W, no. 10; newsletter r.n.)
editor's note: The Cap'n files another newsletter en route from Delaware while driving the Turnpike to 195. The Pirates Organization does not condone texting while driving, but is impressed nonetheless.
The Pirates met an undermanned, but spirited Jags club Sunday and eventually wore them down for a 6-1 victory. The score doesn't reflect the true nature of this match. Aided by young and speedy Vincent Currao, the Jags gave us fits for the 1st period. The 1st period ended in a tie after Scott scored a classic "LeMatty" goal by scrapping with Two Jags behind the net, winning the puck and wrapping it past a shocked tender who to that point had been stellar between the pipes.

In the final period, Tony and Jay weaved their magic and the game finally loosened-up a bit as they scored a number of times as did Glenn and Scott. Big John Hoenge stepped-in and was very solid for the absent 88. As always a fun and spirited match with the venerable Jags club.

FOR THE RECORD
Attendance (players): Cassens, DiPierro, Farkas, Hand, LeMatty, McLaughlin, Newcomb, Nicolosi, Serkin, Toscano (sub). Net: Hoenge.
Scratches: Gucci.
Scoring: 1st period: 1-1 tie: Goal by LeMatty (Cassens). 3rd period: 6-1 Pirates: Goals by Toscano (Cassens); Farkas (McLaughlin); Serkin (Toscano); Toscano (Nicolosi); LeMatty (Farkas).
date of game: 2.14.10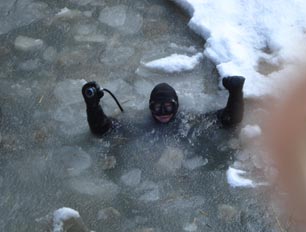 HE GAVE UP ROLLER HOCKEY FOR ICE
It's a balmy 31º at Cape May Ferry. Where are you? If you're former-Pirate Ed "Scooby" Southworth then you're in the water of course. While we were digging out of the blizzard last week, Scooby was having just another day at work.








WON 6-1
THE
SILVER
SKULLS




1) VINCENT CURRAO
In an unprecedented move, the Pirates award an opposition player a "Silver Skull."
For "simply being the best player on the ice."

2) SCOTT LEMATTY
For the goals.

3) ANTHONY TOSCANO
For nice passes and the goals.