SUNDAYS #4 vs. JAGUARS:
(vol. 40W, no. 4; newsletter b.n.)
The last time the Pirates played the Jags it was for all the marbles. Some wondered, how did the Jags make it to the Finals anyway? I don't know ... for all the times I played with them I don't think they won a game for like three seasons. (Some people have wondered aloud if that was a case of "addition by subtraction" — subtract 67 from the team and suddenly they started to win). Before you too much thought into that theory though, just remember that the Pirates spanked the Jags in that final game ...

Did I mention that we had Tony "back in Black," so to speak ... And if dots were goals ... (get it?) ... (well if you didn't, he got three of them) ... And the rest of the game? Did the Jags avenge their loss in the Finals? Nope. The final was not much different than the last time.

FOR THE RECORD
Attendance (players): DiPierro, Farkas, Gucci, LeMatty, McLaughlin, Newcomb, Nicolosi, Serkin, Baio (sub), Toscano (sub). Net: Harris.
Scratches: Cassens, Hand.
Scoring: 1st period: 1-1 tie: Goal by Toscano (Serkin), SHG. 3rd period: 6-1 Pirates: Goals by Toscano (Nicolosi); Newcomb (Serkin, Toscano); LeMatty (Farkas); Toscano (Nicolosi, Newcomb); Nicolosi (Toscano).
date of game: 12.28.09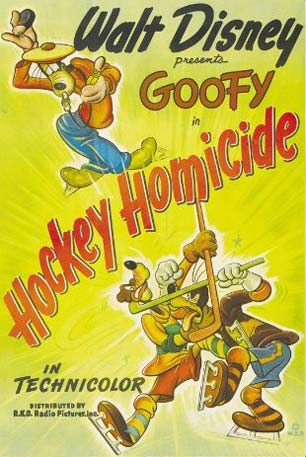 "I DIDN'T SAY MY WIFE WAS CRAZY ..."
Say what you will, but James Cameron's "Avatar" has nothing on this 1945 Disney animated short. In "Hockey Homicide," the Loose Leafs battle the Ant Eaters for the Championship. Best movie quote? "Here come Bertino and Ferguson out of the penalty box ... and there go Bertino and Ferguson back in the penalty box." Sounds like a typical Pirate game.