SUNDAYS #6 vs. TEAM BC:
(vol. 40W, no. 6; newsletter h.s.)
This was such a terrible outing that I tried everything not to write this newsletter. I even asked Wildman to write something about his adventures during his world tour, but he took longer to file it than he was away for. So that leaves me with no chance than to recount some of the highlights, er lowlights, of this game.

The two that come to mind are: Gucci once again suiting-up for the enemy because they claimed they were going to have too few players (they ended-up with eight); the other "Great Moment in Pirate history" were the two shorthanded goals we gave up.

Besides that it was just another typical Sunday game in what could be the worst season in Franchise history. Heading into the final two games we are sporting a 1-6-0 record ... but there is some good news: We are still 2-points ahead of the Jags.

FOR THE RECORD
Attendance (players): Cassens, DiPierro, Farkas, Gucci, Hand, LeMatty, McLaughlin, Nicolosi, Serkin, Gesior (sub). Net: Harris.
Scratches: Newcomb.
Scoring: 1st period: 4-1 Team BC: Goal by Serkin (none). 3rd period: 7-2 Team BC: Goal by DiPierro (Nicolosi).
date of game: 1.10.10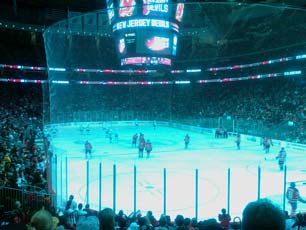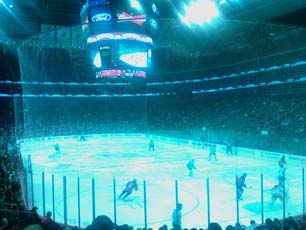 GAME OFF, GAME ON ...
#67 was absent from this Sunday game because he was witness to an NHL oddity — "Part 2" of the Devils-Lightning game that was suspended due to lighting problems at the Newark rink. Brian captured the stoppage of the original game (top photo) and then the sequel (bottom photo) before he and Pirates' Team Manager Dave took advantage of the empty rink of 4,000 fans and moved to better seats.








LOST 7-2
THE
SILVER
SKULLS




1) JAY SERKIN
For some good moves on the breakaway goal to (briefly) tie the game.

2) DAN DIPIERRO
For the nice slam-dunk goal.