WEDNESDAYS #4 vs. GERIATRICS:
(vol. 40W, no. 4; newsletter b.n.)
Other than the win, nobody cares about the game. All they care about is Gucci ...

Its not everyday that your wheel flies off. Good thing someone was around to take the picture. (Click on photo to get whole effect!)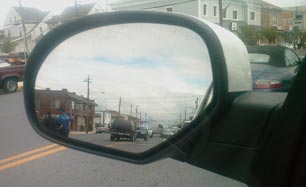 FOR THE RECORD
Attendance (players): Genalo, Gucci, LeMatty, Miller, Newcomb, Nicolosi, Maccanico (sub), Trochiano (sub). Net: Harris.
Scratches: Matthews, Farrell, Gesior.
Scoring: 1st period: 3-2 Pirates: Goals by Cassens (Miller); Miller (LeMatty); Trochiano (Gucci). 3rd period: 5-4 Pirates: Goals by Genalo (Cassens); Genalo (Nicolosi).
date of game: 12.07.09


WON 5-4
THE
SILVER
SKULLS




1) SCOTT MILLER
For some opportunistic play resulting in a 2-point night.

2) KEN GENALO
For the last 2 tallies.

3) BRIAN NEWCOMB
For doing his best to hold the (blue)line, but mostly for finally finishing his newsletters ... even if we are dubious at the credibility of his visual report.