SUNDAYS #5 vs. TEAM BC:
(vol. 40W, no. 5; newsletter by b.n.)
editor's note: the following installment of the newsletter was written by #67 during overtime at the Devils game he attended with Pirates LeMatty, Wildman, Ralz, Russ, Scott Miller, Mike and Kevin. To keep the spirit of Brian's message, we have kept the spelling and grammar as we received it ... and to maintain the spirit of the Pirates' season, the Devils lost.
Evry good thing must come to an end. And as rumor has it... HARRIS will be moving to aberdeen sometikein the future ... And no it is not the aberdeen of exit 117 on the parkway .. But instead its the one down in maryland... Anyway ... The SOC ... A former star chamber .. Group of players finally emerged from the shadows of animosity and showed their faces.... What brought about this outcome? Was it Obamas drastic healthcare plans .... No .... It was what happens to the pirates .... AHG ... (thats After Harris) do the Pirates still exist? ... Or are they reformuled and repackaged into some other team? ... And the answer is..... Dunno ... Dave missed the train in pt pleasant ...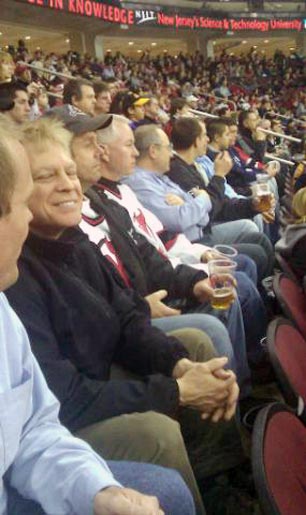 FOR THE RECORD
Attendance (players): Cassens, DiPierro, Farkas, Irausquin, LeMatty, Matthews, Newcomb, Nicolosi, Serkin, Baio (sub). Net: Harris.
Scratches: Hand.
Scoring: 1st period: 3-1 Team BC: Goal by Serkin (none). 3rd period: 5-2 Team BC: Goal by Nicolosi (Serkin).
date of game: 3.28.10