SUNDAYS #6 vs. LUNCH LADIES:
(vol. 42S, no. 6; newsletter by r.n.)
Revenge for years of bad sloppy joes was had by the Pirates as they kept the powerful Lunch Ladies tangled in their hair nets for most of Sunday evening. In fact, Harris was bidding for a shutout until the Ladies registered two late tallies.

On the other end of the rink it was the Rud show. In his best game as a Pirate, he got the key opening goal off a rebound, set up by Glenn on a nice back pass, and added another goal in the final period off another sweet feed from Glenn. "Zdeno" really had a big game as he also assisted on Wildman's goal which gave us a 2-0 lead at the break. In addition's to Zdeno's tally in the final period, Tim added an unassisted goal on a "look-away" wrist shot that fooled Arena.

Perfect meeting weather was somewhat mitigated by early departures, but in summary it was pretty darn nice night ...

FOR THE RECORD
Attendance (players): Cassens, Farkas, Hand, Irausquin, LeMatty, Newcomb, Nicolosi, Nigro, Southworth, Gesior (sub). Net: Harris.
Scratches: DiPierro.
Injured Reserve: Gucci (season, bicep), Serkin (season, wrist).
Scoring: 1st period: 2-0 Pirates: Goals by Irausquin (Farkas); Cassens (Irausquin), PPG. 3rd period: 4-2 Pirates: Goals by Hand (none); Irausquin (Farkas).
date of game: 8.01.10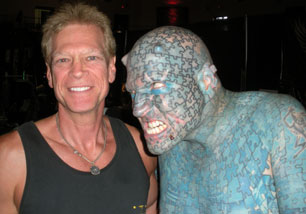 SCOTT WITH NEW DEVILS PLAYER
When not on the rink, Scott is known as the publisher of Shore Life magazine (and other publications too numerous to mention here). Recently while on duty at the Asbury Park Tattoo Festival, Scott met an actual Jersey Devil. And, yes, the horns are real.