WEDNESDAYS #5 vs. CANNIBALS:
(vol. 42W, no. 4; newsletter by b.n.)
Allright ... I am doing this one without the stats. Harris needs to get the newsletter out so he can update the status of "The Fallen." Guys like Jay (who is injured but apparently still playing for another team) and Gucci (who looks like he has a pumpkin lodged under his forearm). Somebody told me that they saw him playing ice hockey after his injury, but I flat out don't believe it .... And then, there is of course Wildman. who had his Acura stolen ... His 2001 Acura ... The one with the back window that leaks ... And it reeks of skanky hockey equipment ... Who the heck would want to steal that thing? Oh yeah there was a game.

Forward lines consisted of Wildman-Russ-LeMatty and the "Deuces Wild" line of KennyG-Marty-#67 . The defense was Mike, Ed Gesior and Joe Baio. And that is pretty much what I remember.

It was a Monday night of course ... Day after Fathers' Day for those who care to celebrate.

FOR THE RECORD
Attendance (players): Cassens, Farrell, Genalo, Gesior, LeMatty, Newcomb, Nicolosi, Baio (sub), Maccanico (sub). Net: Harris.
Scratches: Matthews, McLaughlin, Miller.
Injured Reserve: Gucci (season, torn bicep).
Scoring: 1st period: 2-1 Pirates: Goals by Farrell (Maccanico); Nicolosi (Newcomb). 3rd period: 7-1 Pirates: Goals by Baio (none); Cassens (Nicolosi); Nicolosi (LeMatty); Baio (none); Cassens (Nicolosi).
date of game: 6.21.10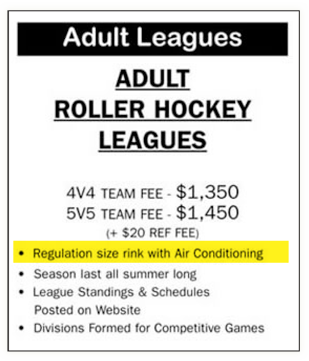 OH C'MON!
It's bad enough to have to play hockey in a rink that has 95º temperatures, but to get a solicitation in your email for teams to join leagues that play in the "Regulation Size Rink with Air Conditioning" seems to cross the line of truth in advertising.